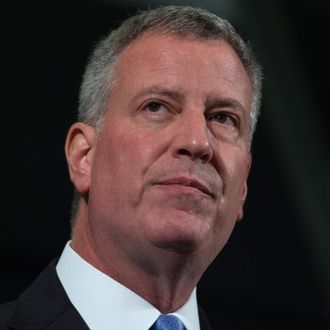 Bill de Blasio.
Photo: Bryan Smith/ZUMA//Corbis
In January 2014, new deputy mayor of health and human services Lilliam Barrios-Paoli told the New York Times, "For the first time in my life, I'm going to be working for somebody who really, truly embraces the things that I do." The former nun, who was raised in Mexico City by Cuban parents, worked under Mayors Ed Koch, Rudy Giuliani, and Michael Bloomberg. Being deputy mayor was her most-high-profile gig yet.
However, a year and a half after she started, Barrios-Paoli has decided to leave the de Blasio administration; she will become the unpaid chair of the board running New York City public hospitals at the end of the month. She told the Times that she was ready for a "new phase" and that leaving the job was a "gift to [her]self."
Advocates weren't happy about Barrios-Paoli's departure; they felt like her actions were actually helping the city's homeless. Councilman Corey Johnson, chair of the City Council Health Committee, told Politico New York, "I just found out in the last hour off of Twitter, and I started audibly gasping and swearing … I'm in denial and I'm heartbroken. This fucking sucks." Other reactions included the words, "big shoes to fill," "very worried," and "sad." People who have commented on how few Latinos work in the mayor's office have also been upset by the deputy mayor's exit. 
Mostly, people wondered what was going to happen to the city's homeless population now that the woman who hoped to "bring a new respect for the poor" was leaving.
When Barrios-Paoli was appointed, de Blasio said, "An ever-growing homeless population is unacceptable to the future of New York City — it's just literally unacceptable. It will not happen on our watch." In the months since, 311 calls about homeless people increased by about 60 percent, according to DNAinfo. Nearly 59,000 people were in homeless shelters in June 2015, according to the Coalition for the Homeless. The coalition's president, Mary Brosnahan, told The Wall Street Journal, "No one wants to be in a city where there is just such enduring physical suffering at every street corner," she said. "People want folks to have a humane place to go."
As a result, the de Blasio administration is now dealing with unending criticism about its response to what many in the city perceive as a homeless crisis.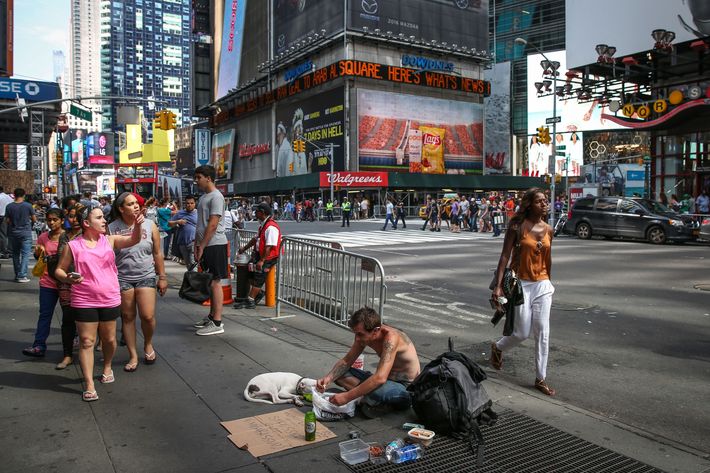 In the past month, de Blasio has tried to counter the criticism by starting many new initiatives. This weekend, de Blasio announced a $10 million emergency measure to help people in danger of becoming homeless. In early August, the mayor announced that the city planned to spend $6 billion on homelessness in the next four years. The city is working harder to connect mentally ill or violent homeless New Yorkers with treatment, and will try to get them into mental-health facilities or shelters that will soon have more space. Police Commissioner Bill Bratton also announced in July that he was training officers how to properly treat the mentally ill. "Our street homeless population is largely people who have mental health challenges and we need to approach that differently than we have in the past," Bratton said. 
De Blasio hasn't just created policies to combat the problem with renewed vigor; he has also begun talking about how it is a problem — one that will be very difficult to solve — something his critics had been waiting for him to completely acknowledge. On Tuesday, de Blasio went on WNYC and said, "I think there is both a perception and a reality problem … Yes, there is something real going on here." He addressed the problem — in perception and in reality — in a Daily News op-ed this weekend too. 
The summer months have seen an increase in the number of homeless on New York City streets. That's a trend we aim to reverse. Since we arrived in office, we have put our money where our mouth is to address the issue head-on, investing $1 billion in additional funds over the next four years. These dollars are getting people off the streets and into shelters, connecting them with services for mental health and substance abuse needs, preventing at-risk people from becoming homeless in the first place, and helping those in shelter transition back to permanent housing.
However, on WNYC, de Blasio stressed that he still thought his critics were overstating the case against him, something he also brought up in the op-ed: "To be sure, many of these concerns have been overblown by hyperbolic pundits and right-wing politicians with an ideological axe to grind. Some are in a rush to convince people that the city is on the slippery slope back to the 'bad old days.'" When host Brian Lehrer asked about those "bad old days," de Blasio responded, according to Gothamist, "I think we should be careful about anyone who likes to talk about the old days in this town. The bad old days are gone. I think we have to be very blunt about this — that is the cheapest analysis that one could offer. … It's ridiculous. We're never going back to the bad old days."
He added that the problem had begun before his term began, pointing at Bloomberg's decision to end the Advantage subsidy program as a reason many became homeless. He added that homelessness would probably be an even bigger crisis if his administration hadn't taken the steps it did.
However, because this is de Blasio — and he just does not seem to be having the best year when it comes to people approving of his job performance — a story about his managerial woes in The Wall Street Journal quickly followed the one about his promises to stop homelessness. Many aides are frustrated by the long, late-night meetings, with one adviser telling the Journal, "He seems in denial about some of the administration's problems." Others complained about his hatred of early-morning meetings and his need to exercise at a time when previous mayors would have already been in the office — while also making fun of his flip phone.
To use de Blasio's words, he may be trying to tackle the reality of the problems facing his administration, but the perception part still means that he isn't about to get a thumbs-up for the changes anytime soon.