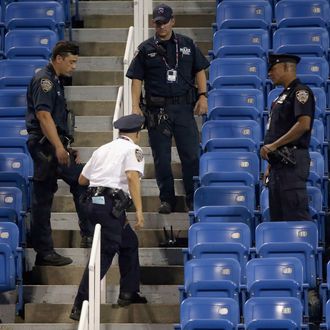 Tennis, anyone?
Photo: Matthew Stockman/Getty Images
Another drone was spotted buzzing around Queens Thursday night, but instead of bothering a commercial jet, this one crashed into some empty seats and interrupted a second-round tennis match at the U.S. Open. A Brooklyn teacher, 26-year-old Daniel Verley, committed the double fault of flying a drone and of apparently losing control of it in a very populated area and has been arrested on charges of reckless endangerment and operating a drone in a city park outside of an authorized area.
Verley, who was reportedly based at a marina on the opposite side of Citi Field, allegedly sent the black drone soaring diagonally over Louis Armstrong Stadium, where it collided with seats in the empty stands of the match between 26-seeded Flavia Pennetta of Italy and Monica Niculescu of Romania. No one was hurt, and the drone broke on impact. Officials paused the match so the NYPD and other personnel could investigate. When officials determined the drone was basically a toy available on Amazon, play resumed.
Pennetta told the Associated Press she heard the drone pass by and thought it might have been a bomb. "A little bit scary, I have to say," she said. "With everything going on in the world — I thought, 'OK, it's over.' That's how things happen."" Pennetta ended up beating her opponent in straight sets, and, according to the Daily News, this is the tennis player's second U.S.Open drone mishap. Last year, a Yonkers man was arrested for flying a drone outside the stadium in Flushing during Pennetta's semifinal match against Serena Williams. The robot never made it near the courts, though, leaving Verley to take the set when it comes to people who might want to consider some new hobbies or just buy tickets.