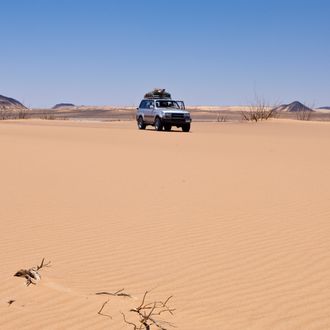 Desert near the Bahariya Oasis, Egypt.
Photo: Reinhard Dirscherl/ullstein bild via Getty Image
An Egyptian police and army force chasing "terrorist elements" in the country's western desert accidentally opened fire on a group of Mexican tourists and their Egyptian guides, killing 12 people and injuring ten, Bloomberg News reports. A spokesperson for the Egyptian tourism ministry said the tourist group was traveling through a restricted area in four four-wheel-drive vehicles, and failed to clear their travel plans with the authorities. Hours before the attack Ansar Bayt al-Maqdis, the local ISIS affiliate, announced it was in the desert bordering Libya, and ISIS militants boasted on Twitter that they had fought off the Egyptian military in the area. 
According to The Guardian, sources told a Spanish newspaper that the convoy was in an unrestricted area when it was attacked, and there were also many Chilean tourists in the group. Mexico's foreign ministry has confirmed that at least two Mexicans are among the dead, and five are hospitalized in stable condition. Mexican president Enrique Peña Nieto tweeted, "Mexico condemns these deeds against our citizens and has demanded an exhaustive investigation of what has occurred."