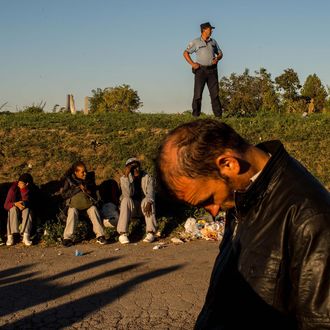 Migrants stopped in Serbia, near the Croatian border.
Photo: David Ramos/Getty Images
The European Union took a small step toward tackling the continent's refugee crisis on Tuesday, with European leaders okaying a plan to share 120,000 refugees among most of its member states.  The majority of governments made the decision over strong objections and "no" votes from Croatia, Slovakia, Romania, and Hungary. The conservative government of Hungary has been particularly vocal in its opposition to exactly this type of plan.
The details of the deal are still a bit fuzzy, but the terms outlined so far call for nine member states to take about 10,000 refugees each over two years, while Germany and France will welcome nearly double that number. Britain, which has the right to opt out, decided to do so but has agreed to help resettle about 20,000 refugees over the next five years, reports The Guardian. Denmark and Ireland could have also withdrawn but have agreed to participate. 
However, the Eastern European countries that protested are included in the proposal, and it's not entirely clear how those that don't want any part of this agreement will be forced to comply. The BBC reports that countries will face a fine of 0.002 percent of GDP, but some, such as Slovakia, have basically said they will reject any and all attempts by the European Union to force them to accept refugees. Hungary — which, despite its opposition, will actually benefit from the plan, as it will eventually relocate more than 54,000 people within its borders — questioned how the EU could enforce such quotas when refugees themselves only want to go to Germany or other, more economically stable member states. 
About 66,000 refugees from Greece (50,400) and Italy (15,600) will be the first to be resettled. Neither Greece nor Italy is part of the quota scheme, as one of its main goals is to take some of the pressure off these countries, which are still seeing thousands arrive on their shores daily from the Middle East and Africa. European leaders also hope that the promise of relocation will streamline and hasten the registration, fingerprinting, and asylum-screening process in these entry points to the continent. 
People fleeing from Syria, Iraq, and Eritrea will be the beneficiaries of this plan, as their refugee status is usually more certain. Yet, even the safe placement of 120,000 refugees — a two-year goal that is less than the number of refugees that will arrive in a month — is dwarfed by the scale of Europe's migration problems and the refugee crisis worldwide. Nearly half a million people have tried to reach Europe by sea this year, and nearly 3,000 have lost their lives in the attempt. More than 450,000 have applied for asylum in the Europe Union so far in 2015 — and international organizations predict that up to 1 million people will make the journey before the year's end. 
European leaders will meet Wednesday to ratify the agreement, which, even if successful, will likely still get resistance from the same bloc of member states. The governments also will reportedly use this meeting to strategize on how to stall the flood of people reaching the continent, including considering a blueprint to give more aid and support to Turkey, which has taken in more than 1.5 million Syrian refugees. 
European Leaders Come Up With Refugee Quotas
THE FEED
2021 mayoral race
Garcia Is Taking Yang's Help, But Not Returning It
the economy
A World of High Wages and Cheap Burrito Bowls Is Possible
the final days
A Very Late Night With the Yangs
Pence's comeback continues to go well
juneteenth
America's Hollow Embrace of Juneteenth
missouri
St. Louis Gun Couple Plead Guilty to Misdemeanors for Threatening Protestors
the city politic
The Company Eric Adams Keeps
extremism
Andrew Clyde Challenges MTG for Title of Most Extremist Georgian in Congress
new york city
De Blasio Botches Juneteenth Promise to Municipal Workers
intelligencer chats
What the Resurgent Real-Estate Market Means for NYC
politics
What Republicans Mean When They Say 'Stacey Abrams'
juneteenth
Juneteenth Is Now a Federal Holiday
Did he think no one would remember?
… on June 19 of last year, [Bill de Blasio] made a solemn vow.
"Starting next year, Juneteenth will be an official city holiday and official New York City schools holiday," Mr. de Blasio said.
He said that every city employee and every student would have "an opportunity to reflect on the meaning of our history."
It was a momentous-seeming announcement for the largest city in the country and the nation's biggest school system, and headlines followed.
But one year later, even as President Biden is poised to make Juneteenth a national holiday for federal employees, Mr. de Blasio's efforts have yet to yield their promised result. On Tuesday, just days before Juneteenth, municipal employees learned that they would not actually be getting an extra paid day off to commemorate the holiday this year.
Rather, city workers will need to use their pre-existing paid time off — an unused vacation day, for example — to celebrate the holiday, according to three city officials and a union official briefed on the matter.
supreme court
Supreme Court Keeps Its Powder Dry on Religious Liberty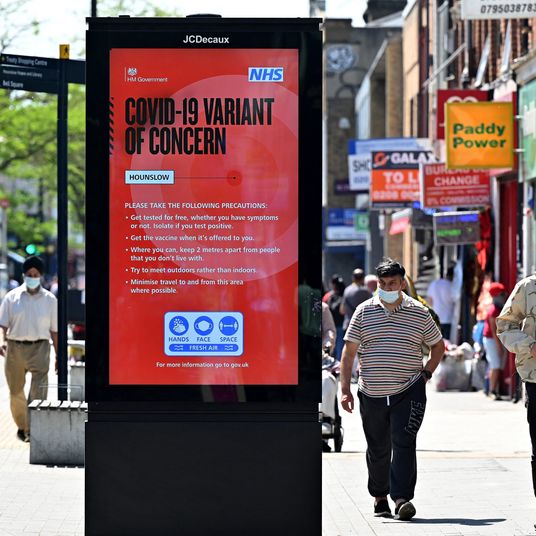 explainer
What We Know About the Dangerous COVID B.1.617.2 Delta Variant
the national interest
Why Republicans Could Never Tell Their Voters the Truth About Obamacare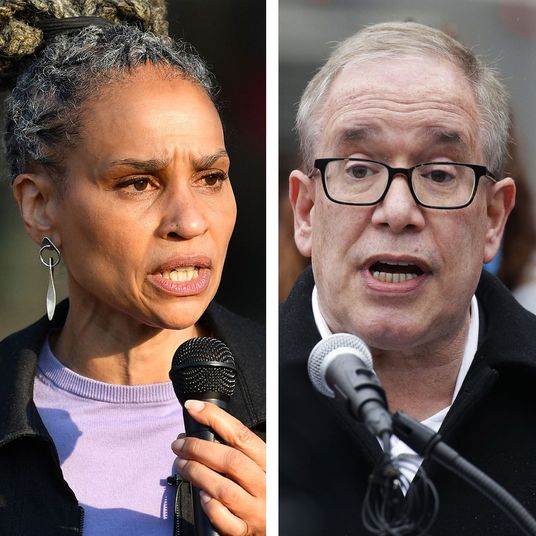 nyc mayoral race
All the Endorsements in the NYC Mayoral Race
covid-19
Why the Delta Variant Is Especially Dangerous for Black and Brown New Yorkers
the inside game
Biden's Stealth Strategy for Getting Big Things Done — Even With a Split Senate
politics
Florida Pol Threatens to Put 'Hit Squad' on Rival Congressional Candidate
BREAKING: The Supreme Court rejects the constitutional challenge to Obamacare in 7-2 opinion. The court tosses the lawsuit because the challengers do not have legal standing to sue.
https://t.co/meuQgPE50Z
—
@SCOTUSblog
politics
Can Joe Manchin of All People Trigger a Breakthrough on Voting Rights?
encounter
On the Campaign Trail With Andrew Giuliani
nyc mayoral race
Key Moments From the Final NYC Mayoral Debate
religion
How Critical Race Theory Overran the Southern Baptist Convention
2022 midterms
Could Democrats Defy History and Keep Congress in 2022?
celebrations
What Biden Has Planned for His July 4 'Independence' From COVID Party
politics
Biden and Putin Played Nice Today