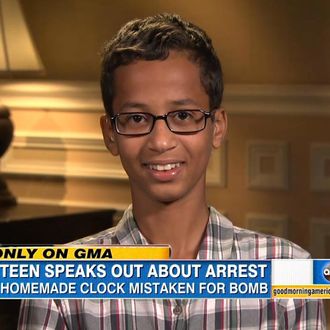 Hours after news of Ahmed Mohamed's arrest went viral, the Texas ninth-grader arrested for bringing a homemade clock to school — one adults thought looked like a bomb — was inundated with messages of support online and invitations to meet President Obama, Mark Zuckerberg, and staffers at Google and Twitter; he even got a shout-out in the Republican primary debate. He talked to reporters on several national news programs and was ambushed with a surprise invite to visit his dream school, the Massachusetts Institute of Technology. 
On Thursday morning, Good Morning America host Robin Roberts asked him which invitation he was most excited about, and even the president of the United States couldn't compete with a chance to go to Boston and hang out with an astrophysicist at MIT. 
"But the White House, that's not too bad," Roberts added. Mohamed plans to take Obama up on his offer. His seemed far more comfortable with the camera during his second big appearance; he ended the segment by saying, "Goooood morning, America," and saying the clock wasn't his first invention, and it wouldn't be his last. 
On Wednesday night, Mohamed had his national TV debut on MSNBC's All in With Chris Hayes wearing the NASA T-shirt he had been arrested in. He looked pretty nervous, and it was a good reminder that this all happened to a kid who was only 14 years old. 
"I felt like a criminal, I felt like a terrorist," he told Hayes. "I felt like all the names I was called. … In middle school, I was called a terrorist, called a bomb-maker, just because of my race. And my religion."
However, Mohamed, thanks to all of the support, is coming away with mostly positive feelings about this experience. "I didn't think I was going to get any support because I'm a Muslim boy," he said, unable to contain a big smile, on MSNBC. "So I thought I was just going to be another victim of injustice. But thanks to all my supporters on social media, I got this far, thanks to you guys. I see it as a way of people sending a message to the rest of the world that just because something happens to you because of who you are, no matter what you do, people will always have your back."
He said something similar on ABC the next day: "I was scared at the moment, but now I feel really happy that I'm getting all this support from all over the world, and that the support isn't just for me, but that it's for everyone who's been through this."
According to the Dallas Morning News, Mohamed's sisters set up his Twitter account, @IStandWithAhmed. The account has more than 82,000 followers. "This is like a curse and a blessing at the same time," his 17-year-old sister, Ayisha, told the Morning News. "I don't think he'll be able to ever live normally again."
At a press conference on Wednesday — in which Mohamed introduced himself by saying, "I guess everyone knows I'm the one who built a clock and got into a lot of trouble for it" — the student said he was thinking about transferring to a different school. A MacArthur High School spokesperson told ABC News on Thursday that "he's certainly welcome [back]." She added that the community of Irving, Texas, seemed to be standing behind the school's decision to report the clock. "Our community seems to be standing behind us supporting us. We are not hearing the complaints or crazy messages here in Irving."
The Irving Police Department announced yesterday that Mohamed will not be charged for what they called a "suspicious device." Irving mayor Beth Van Duyne, who has received national attention in the past year for her false statements about "Sharia law courts" ignoring the law in Irving — remarks that have led to invitations to speak at several tea-party events this summer — posted on Facebook that she agrees with how the police and school district handled this case. "We have all seen terrible and violent acts committed in schools," Van Duyne wrote. "Perhaps some of those could have been prevented and lives could have been spared if people were more vigilant."