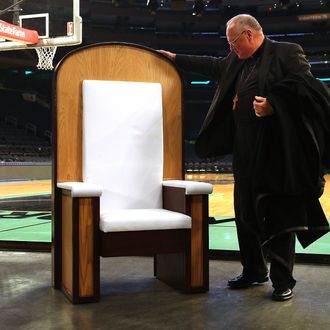 Photo: Spencer Platt/Getty Images
Pope Francis's taste in furniture apparently falls along the lines of "something simple and wooden without any designs," so he will hopefully be pretty pleased with the chair built for the Madison Square Garden Mass during his New York City visit. Cardinal Timothy Dolan revealed the chair in Madison Square Garden Wednesday, and it's made of oak and has a white cushioned seat. It was constructed by immigrants from Port Chester to represent Pope Francis's concern for the marginalized, says Cardinal Dolan. 
In addition to the furniture, Cardinal Dolan shared some details about the pope's Madison Square Garden Mass, which he will say in English and Spanish to a crowd of 20,000. The pope will also make a lap around the Garden in a golf-cart-like vehicle so he can wave and greet the crowds. The city announced Tuesday that, before the Mass, Pope Francis will process through Central Park, and Cardinal Dolan said His Holiness is a "pope of surprises" and may add a few more stops to his itinerary if security allows and he can fit them in on his two-day visit to the city, the second stop on his five-day East Coast tour.
Cardinal Dolan did not say what was going to happen to the chair after the Mass, but perhaps Pope Francis will consider lending it to the Knicks, since the team could use any blessings it can get.