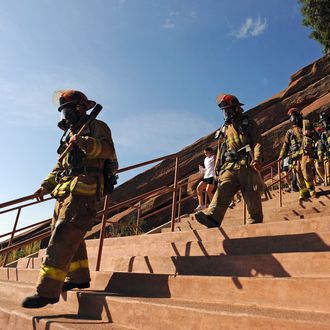 2008 9/11 memorial event in Denver like the one scheduled in Kansas City this weekend.
Photo: RJ Sangosti/The Denver Post/Getty Images
Twenty-year-old man Joshua Ryne Goldberg was charged with distributing information relating to explosives, destructive devices, and weapons of mass destruction on Thursday. He lives in Jacksonville, Florida, with his parents, and this summer, allegedly told an FBI informant — using his mom's computer — to build a pressure-cooker bomb like the one used at the Boston Marathon two years ago and place it at a 9/11 memorial event scheduled to take place in Kansas City, Missouri, this weekend. Federal authorities originally thought Goldberg was an ISIS sympathizer planning an attack in Australia, due to his alleged Twitter name — "Australi Witness" — and general online presence. Goldberg allegedly told the FBI informant to fill the bomb with broken glass and nails dipped in rat poison — "just put as much sharp stuff as you can in there." The accused allegedly confessed that he planned to tell authorities about the attack before it happened so he could get credit for preventing it. Goldberg faces a maximum of 20 years in federal prison.