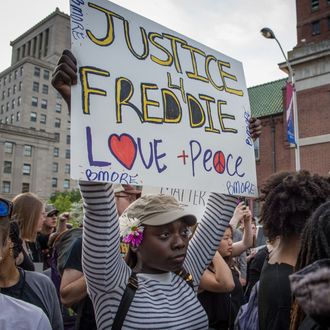 Photo: Copyright Ken Cedeno 2015
Baltimore City Circuit Court judge Barry Williams ruled on Thursday morning that the Freddie Gray case will stay in Baltimore. Attorneys for the six officers charged in the death of Freddie Gray earlier this year argued that their clients would never get a fair trial in the city. Judge Williams said it would be premature to move the trial before jury selection even began. "The citizens of Baltimore are not monolithic," he wrote. "They think for themselves." He added that it would be difficult to find a city that had not seen media reports on the Gray case, given the international attention it received.
Last week, Judge Williams decided not to recuse State's Attorney Marilyn Mosby or dismiss the charges against the officers. He also ruled that all six officers would be tried separately. Earlier this week, the city reached a $6.4 million civil settlement with the Gray family.
Protesters outside the courthouse this morning chanted, "The trial stays here," after the decision was announced. One protester was arrested; according to Baltimore police, "she was warned several times to move to an area that has been designated for peaceful protests." Another protester told WBAL-TV, "We think that sometimes there's much too much of a police presence at some of the larger demonstrations. There's been tons of police that aren't necessary, so I wouldn't say that we're satisfied."