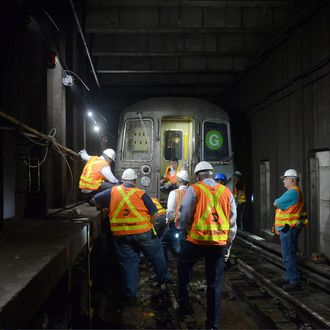 MTA personnel work at the scene of a G-train derailment near the Hoyt-Schermerhorn station.
Photo: MTA New York City Transit/Marc A. Hermann
A G train was heading south through downtown Brooklyn around 10:30 on Thursday night when its front two wheels came off the track, derailing the train. Three people were injured and taken to the hospital. The train was only about 700 feet north of the Hoyt-Schermerhorn station, and the nearly 100 passengers on the train needed to walk through the dark and grimy subway tunnel — with the help of flashlights and MTA workers — to escape. The MTA is currently investigating the how, what, and why of the derailment. 
As a result, service on the G train will be exceptionally messy on Friday, and come in three exciting flavors. Service will be limited between Bedford-Nostrand and Court Square, "extremely limited" between Bedford-Nostrand and Fulton Street, and nonexistent between Fulton Street and Church Avenue — just take the F instead.