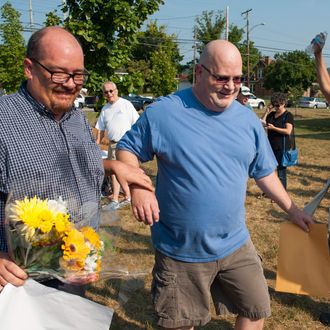 Michael Long (left) and Timothy Long, of Rowan County, raise their hands walk through a crowd of supporters after receiving their marriage license.
Photo: Ty Wright/2015 Getty Images
Will Smith and James Yates walked into the Rowan County clerk's office this morning to get a marriage license. Unlike the four same-sex couples who had tried to do the same thing in the past few months, they were successful in their mission. Deputy clerk Brian Mason smiled as he handed Smith and Yates the license, congratulating them and shaking their hands as a crush of cameras snapped around them.
When they walked outside and were greeted by many supportive cheers and reporters clamoring to talk to them, it felt a bit shocking, they told the Lexington Herald-Leader. "This is pretty — uh — unusual for us."
It was the 100th marriage license given out by Rowan County this year — but the first one since the Supreme Court effectively legalized same-sex marriage in June. 
A few other couples went to the clerk's office to pay $35.50 for a license. April Miller and Karen Roberts — who took part in the lawsuit against the Rowan County clerk's office — have been together for 11 years. "Oh my gosh, I'm so excited," Miller said, according to the Courier-Journal, adding, "We know this is bigger than just us," Miller said in an interview. "We have a handful of clerks around the country who are not listening to what the law is."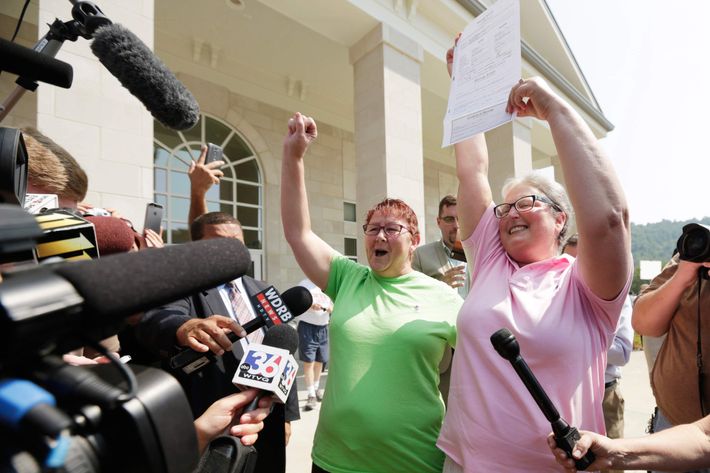 Roberts added, "I don't want to be a hero — just a woman who got her marriage license."
Tim Long and Michael Long — Michael had his name changed after a commitment ceremony the couple held in 2008 — were called "perverts" when they walked out of the courthouse with their license. Tim told reporters that the insults "don't hurt as bad, because love wins."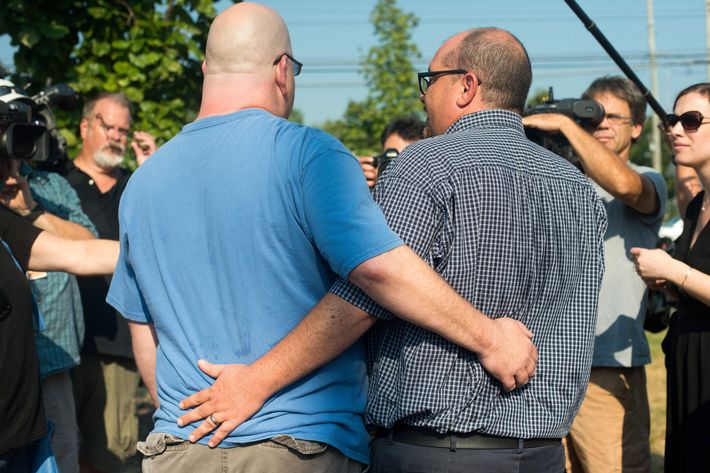 A few more couples walked in for licenses later in the afternoon. 
Pastor Marsha Moors-Charles stood beside supporters singing "Amazing Grace," saying that she'd be happy to perform marriages for any of the couples getting licenses on Friday.
Meanwhile, Rowan County clerk Kim Davis sat in jail; yesterday, a district judge punished her for failing to do what Mason did this morning. She said she couldn't give out the marriage licenses, that it was "a Heaven or Hell decision." She will remain in jail for at least a week, allowing the process of giving out marriage licenses to same-sex couples in her office time to normalize. Five of her six deputies agreed to give out licenses in her absence — the sixth was her son, Nathan.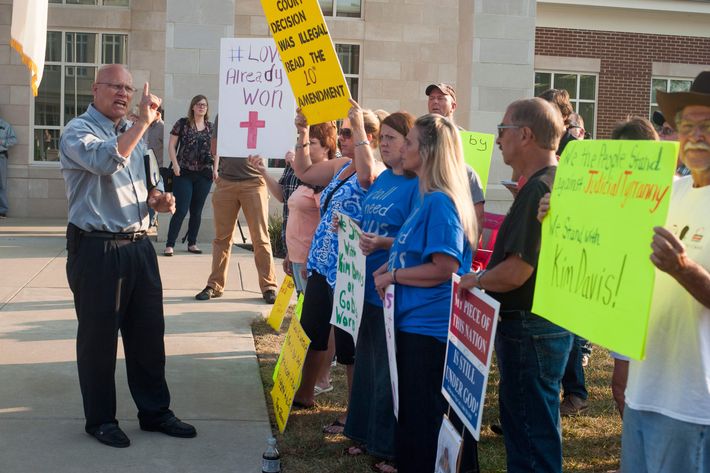 A few of the deputies said that the decision to give out the licenses wasn't an easy one. "I'm a preacher's daughter," Melissa Thompson told Reuters. "This is the hardest thing I've ever done in my life."
When sending Davis to jail on Thursday, U.S. District Judge David Bunning said that religious conviction does not win out over the law when you are a government official — at one point citing his own faith. "The court cannot condone the willful disobedience of its lawfully issued order. If you give people the opportunity to choose which orders they follow, that's what potentially causes problems … Her good-faith belief is simply not a viable defense. Oaths mean things."
Davis's attorneys argue that the marriage licenses aren't "worth the paper they're written on," saying that Davis is the only official authorized to give them out. Rowan County attorney Cecil Watkins has said, according to the Herald-Leader, that the deputies are authorized to give out the licenses, and that those given out today are legal.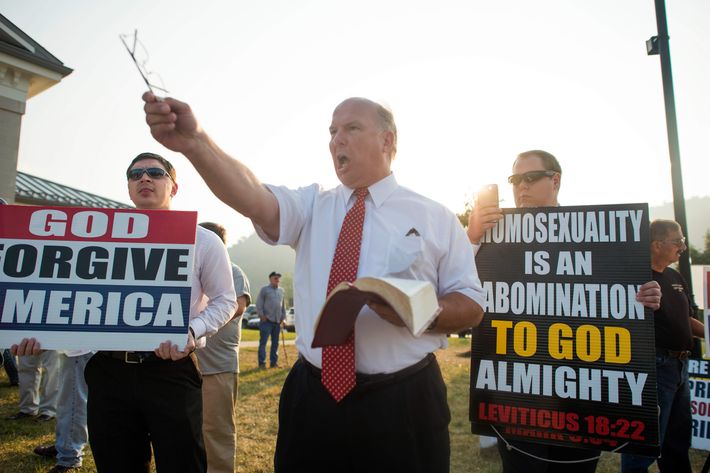 A handful of Davis's supporters stood outside the courthouse too; a rally is planned on Saturday outside the jail where Davis is being held. 
Rowan County judge-executive Doc Blevins told the Herald-Leader, "The keys to her cell are in her own hands. But I don't think she's going to back down."
He just hopes this all ends soon. "The portrayal of our community from all of this has not been entirely flattering, frankly," he said. "We'd rather be known for our beauty and Cave Run Lake and our university, not for this."
Joe Davis, Kim's husband, told reporters that he went out to eat with the six deputy clerks and that he doesn't plan to stop them from giving out licenses — even though Kim is against the move. "We don't want no violence at all," he told the Courier-Journal, standing outside the courthouse in a camouflage baseball hat. "And we don't hate these people. That's the farthest thing from our hearts."
He added that his wife would say in jail "as long as it takes." "She has done her job," he said, according to the New York Times. "Just because five Supreme Court judges make a ruling, it's not a law."
This post has been updated throughout.