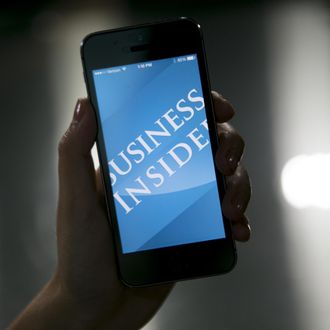 Photo: Andrew Harrer/Bloomberg via Getty Images
On Tuesday, Axel Springer bought 88 percent of digital-media company Business Insider for $343 million. The German publisher was thinking about buying the Financial Times earlier this year; the salmon-hued newspaper was eventually sold to Japanese company Nikkei — for $1.3 billion. Axel Springer also owns Die Welt and Bild, both German newspapers, has a stake in the 20-something-skewing news site Mic, and partnered with Politico during its European expansion. In other words, it's clear the media giant is eager to expand in places where news is written in English — especially at companies doing most of their work online. Back in 2011, AOL bought the Huffington Post for more than $300 million; four years later, it still seems clear that corporate behemoths are interesting in buying up online-media properties for massive and ever-growing amounts of money — as long as said companies are also drowning in clicks. 
Axel Springer already owned 9 percent of the company — which was valued at $442 million, according to Re/code. The other 3 percent of the company will remain with Amazon founder Jeff Bezos, an early investor in the site started by former Wall Street analyst Henry Blodget in 2007. The company has more than 325 employees and gets around 76 million unique readers every month.