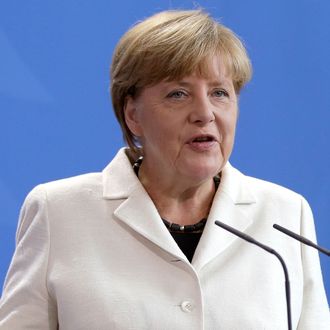 Photo: Michael Sohn/Corbis
"This joint European asylum system cannot just exist on paper but must also exist in practice," German chancellor Angela Merkel told reporters on Tuesday morning while calling for mandatory refugee quotas for all countries in the European Union. Hours earlier, Germany had already restated its commitment to lead the European Union in welcoming refugees — and, German officials hope, to spur other countries to action too. Vice-Chancellor Sigmar Gabriel said late on Monday, "We could surely deal with something in the order of half a million for several years." In other words, the country is prepared to let in 500,000 asylum seekers annually for the near future. 
Several other European leaders have begun adding concrete figures to earlier statements of support. On Monday, British prime minister David Cameron said the U.K. would accept 20,000 refugees from Syria over the next five years — a number that is only slightly more than the number of asylum seekers who arrived in Germany this weekend. French president François Hollande said on Monday that France will welcome 24,000 refugees over the next two years. 
The U.N. expects nearly 400,000 migrants, mostly from war-torn Syria, to arrive in Europe after dangerous trips across the sea in 2015. 
Other countries are continuing efforts to keep migrants out — while others, worried about how many asylum seekers are coming to Europe, are starting to revise earlier invitations. "We have helped more than 12,000 people in an acute situation," Austrian chancellor Werner Faymann said on Sunday. "Now we have to move step-by-step away from emergency measures towards normality." The Danish government has begun putting advertisements in Lebanese newspapers warning refugees to stay away. "Foreign nationals granted temporary protection in Denmark will not have the right to bring family members to Denmark during the first year," the ad reads. It appeared shortly after the picture of the dead boy on a Turkish beach began circulating around the world, leading the leader of Denmark's left-wing party to say, "This must be the worst timing for an advert in the history of the world."
In Sweden, where nearly 50,000 migrants have been welcomed, some politicians and local governments have complained that the influx needs to stop. The deputy leader of the anti-immigration Sweden Democrats — now the largest party in Sweden — said that the expansive policies pushed by Germany and Sweden only makes the problem worse: "The need for a regulated immigration is more urgent than ever." When Cameron announced his plans to accept 20,000 refugees, he made the same jab at Germany's very welcoming policy, saying, "We want to encourage people not to make that dangerous crossing in the first place."
Hungarian prime minister Viktor Orban, who is trying to speed up construction of a fence on Hungary's southern border, made a similar complaint last week: "Just between us, you know, the problem is not a European problem. The problem is a German problem." Merkel remains undeterred — although she did respond to critics a bit by announcing a decrease in the amount of cash refugees will receive when they arrive in Germany, and a plan to reclassify countries no longer at war so that migrants from those places e can no longer be accepted. "What we are experiencing now is something that will continue to preoccupy and change our country in the coming years," Merkel said yesterday. "And we want it to change in a positive way. And we think we can make that happen."
European Council President Donald Tusk — who has pushed "pragmatism" in dealing with this crisis while defending the European Union's response against criticism — gave a speech yesterday that echoed the "in the coming years" message in Merkel's statement.
But let us have no illusions that we have a silver bullet in our hands to reverse the situation. The present wave of migration is not a one-time incident but the beginning of a real exodus, which only means that we will have to deal with this problem for many years to come. Therefore it is so important to learn how to live with it without blaming each other.
In the United States, politicians have begun to take sides on what the U.S. should do about the crisis. Senator Marco Rubio told the Boston Herald this week, "We've always been a country that has been willing to accept people who have been displaced and I would be open to that if it can be done in a way that allows us to ensure that among them are not … people who are part of a terrorist organization."
On Monday, Hillary Clinton said, ''I think we need to have a broad-based global response. The United States certainly should be at the table, but so should everybody else.'' She added, "And if countries are not able to do more physically in taking in these refugees, they should do more financially … They should be funding a lot of the resettlement work and supporting those countries that are bearing the burden of the refugees."
The Associated Press reports that the White House is also "actively considering" ways to respond — including "refugee resettlement."