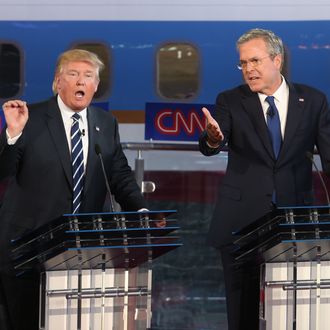 Urging the candidates to fight certainly didn't hurt.
Photo: Justin Sullivan/2015 Getty Images
The second Republican primary debate drew nearly 23 million viewers to CNN on Wednesday, according to the Nielsen ratings company. Although the 22.9 million rating didn't quite match the 24 million who watched the first debate on Fox News in August, the event was still the highest-rated program in CNN's history. The network's record before Wednesday night was a 1993 episode of Larry King Live featuring then vice-president Al Gore and Ross Perot, which was watched by 16.8 million viewers. In addition, CNN boasts that its online live stream of the debate attracted a maximum of 921,000 concurrent viewers as of 9:45 p.m. Wednesday, "by far the biggest audience a primary debate has had on the Internet." No word yet on whether Chris Christie's "ratings magic" had anything to do with these numbers.