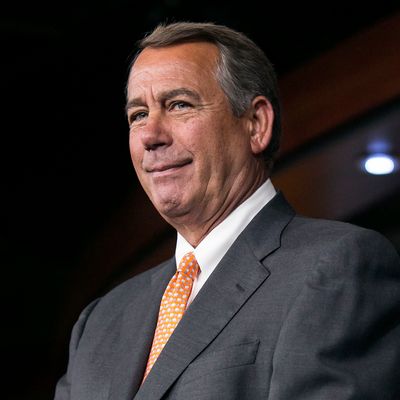 John Boehner speaks at a news conference on Capitol Hill on September 10, 2015.
Photo: Al Drago/CQ Roll Call
After hanging out with Pope Francis all morning, on Thursday afternoon Republican leaders in Congress decided to buckle down and try one of their notorious last-ditch efforts to keep the government functioning. The government's current funding is set to expire at midnight on Wednesday, and a group of conservative lawmakers have vowed not to pass any funding bill that includes federal money for Planned Parenthood in response to the series of videos released this summer. GOP leaders in both houses want to avoid another embarrassing shutdown, and now House Speaker John Boehner has come up with a plan that he hopes will appease the most conservative members of his caucus.
The plan involves two types of legislative maneuvers. According to Politico, on Friday Boehner is expected to begin the process of attempting to strip Planned Parenthood's funding through a budget-reconciliation bill. Such measures only require a simple majority to pass, and they can't be filibustered in the Senate. If at least 51 members vote for the reconciliation bill, it would go to President Obama … and he would promptly veto it.
The Wall Street Journal reports they may also try an unusual technical measure called an "enrollment correction." The tactic allows legislators to change the text of a bill after it's passed both houses. That maneuver would likely be blocked in the Senate, and if not, the president would still veto it.
Under Boehner's plan, the government would stay open because the House would simultaneously pass a bipartisan spending bill that does not strip money from Planned Parenthood, which Obama would sign. Senate Majority Leader Mitch McConnell got that process started on Thursday by putting forward a spending bill that would defund Planned Parenthood. The measure was blocked by a 47-52 vote, with 44 Democrats and eight Republicans opposing it. The vote was meant to prove that anti–Planned Parenthood legislation does not have the necessary support in the Senate. "Democrats' insistence on blocking the strategy pursued today means we have to consider the options now before us," McConnell said. "The reality is that the government will shut down next week if Congress doesn't act."
McConnell then moved forward with a clean-funding bill that keeps the government funded through December 11. It's expected to pass a procedural vote with bipartisan support on Monday night, and then receive final approval on Tuesday night.
However, there's still room for House Republicans to throw off that strategy. If Boehner attempts to advance anything but the clean-funding bill, the Senate won't have time to consider the new measure, and the government will shut down. And some conservative groups have pointed out that sending a defunding bill to President Obama accomplishes nothing. "The objective is not simply 'to get a bill on President Obama's desk.' The primary objective is to defund this organization," Heritage Action for America spokesperson Dan Holler told the Washington Post. Then again, McConnell has explained that Republicans "just don't have the votes to get the outcome that we would like," and now he's proved it. So why not go for the option that keeps the government functioning and gets the same result?