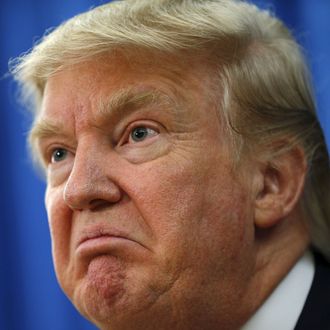 Donald Trump.
Photo: Brian Snyder/Reuters/Corbis
Trump has defied his party's establishment consensus on immigration from the moment he announced his campaign for the presidency, but on that score he's hardly been alone. Aside from his natural gifts for demagoguery, what truly separates Trump from his rivals is his willingness to blaspheme on matters of economic policy. The real-estate mogul turned presidential front-runner has called for raising taxes on capital gains, ending runaway CEO compensation, pulling out of free-trade agreements, and protecting Social Security and Medicare from any future cuts. 
For a while the Republican business establishment — the primary constituency for the party's anti-tax and entitlement spending orthodoxy — sought to contain Trump through peaceful means. The president of the Hispanic Chamber of Commerce hosted a private meeting with Trump in late August, while Americans for Tax Reform encouraged the real-estate mogul to sign its anti-tax pledge.  But after Trump called rising CEO salaries a "complete joke" on Sunday's Face the Nation, the GOP donor class has finally decided to commence aerial bombardment.
On Tuesday morning, the Club for Growth, a conservative group that has ruined the campaigns of many Republicans it deemed insufficiently conservative on free trade and free markets, unveiled two 30-second attack ads, decrying Trump as the "worst kind of politician." 
The first spot begins with still photographs of Hillary Clinton and Bernie Sanders, as a voice-over asks, "Which presidential candidate supports higher taxes, national health care, and the Wall Street bailout?" Donald Trump's face then fills the screen. "In many cases, I probably identify more as a Democrat," Trump then tells a CNN reporter in a clip from 2004.
The second highlights Trump's past support for eminent domain, casting him in the role of the crony developer, eager to leverage his political connections to confiscate the land of ordinary Americans.
Both spots will begin airing next week in Iowa, which hosts the primary race's opening caucus, and where Trump is leading the polls. The ads are likely to run in heavy rotation, as the Club for Growth has bought up more than $1 million worth of screen time.
Trump sniped back at the organization on Tuesday, tweeting:
The ads premiered one day after Politico ran a feature filled with Wall Street executives anonymously voicing their fears of a Trump presidency. Many of the financial industry's biggest donors have already funneled significant amounts of money into Jeb Bush's campaign, only to see the former Florida governor trapped in the single digits in the latest national polls. While Wall Street has yet to mount an organized "stop Trump" campaign, Politico reports that executives have stepped up contributions to establishment-friendly candidates like Florida senator Marco Rubio and Ohio governor John Kasich.
For his part, Trump seems to be reveling in the donor class's discomfort, telling Politico:
Jeb Bush and Hillary Clinton will continue to let Wall Street and the 'hedge fund guys' rip off the people by paying no or very little in taxes … They have total and complete control of Hillary, Jeb and others running. My campaign is self- funded. The only people that have control of me are the people of the United States.
How Trump's primary opponents will respond to such unabashed economic populism will be one fascinating thing to watch for tomorrow night, when the GOP's presidential hopefuls face off in the race's second debate.