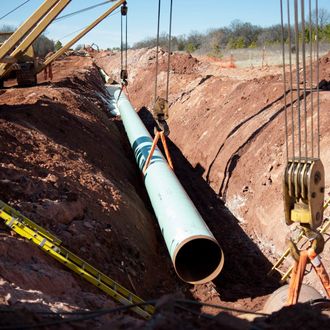 Photo: Daniel Acker/Bloomberg/Getty Images
During a campaign event in Iowa on Tuesday, Hillary Clinton definitively said she opposes the Keystone XL pipeline, which is supposed to carry oil from Canada's tar sands and has become an important symbolic issue for the environmental movement. 
"I think it is imperative that we look at the Keystone pipeline as what I believe it is," she said, "a distraction from important work we have to do on climate change. And unfortunately from my perspective, one that interferes with our ability to move forward with all the other issues. Therefore, I oppose it."
Senator Bernie Sanders and Martin O'Malley, her opponents in the Democratic presidential primary and longtime opponents of Keystone XL, quickly responded, "I am glad that Secretary Clinton finally has made a decision and I welcome her opposition to the pipeline," Sanders said. O'Malley's statement was a bit more combative: "Secretary Clinton has followed — not forged — public opinion … On many of these issues, I staked out positions and got things done — even when they were politically unpopular."
Republican presidential candidates, on the other hand, have been unreserved in insisting that the pipeline must be built. 
Environmental groups were unsurprisingly excited to hear about Clinton's statement.
Clinton has been notably silent on the issue for months, aggravating many environmental activists who were curious to know what she thought before endorsing a candidate. "I want to wait and see what [President Obama] and Secretary Kerry decide," she told a crowd in July. "If it is undecided when I become president, I will answer your question."
Last week, she told supporters in New Hampshire that she would announce her position on Keystone "soon."
"I have been waiting for the administration to make a decision," Clinton said. "I thought I owed them that. I worked in the administration. I started the process that is supposed to lead to a decision. I can't wait too much longer, and I am putting the White House on notice. I'm gonna tell you what I think soon because I can't wait. I thought they would have it decided way, you know, way by now, and they haven't."
At the end of August, the White House said the State Department was still reviewing the Keystone XL application submitted by TransCanada, a Canadian energy company. If the project is approved, the more than 1,000-mile-long pipeline would stretch from Canada to Texas. "This project continues to be under review by the State Department," White House Press Secretary Josh Earnest told reporters. "I'm not aware of any decision that the State Department has forwarded on to the White House." TransCanada first applied for a permit for the pipeline seven years ago.
Earlier this year, Congress — reinforced with a bunch of Republicans elected into office in 2014 — voted to approve the Keystone XL project. However, Obama vetoed the bill, and Congress was unable to override it.
A Wall Street Journal/NBC News poll from January showed that 41 percent of Americans thought the pipeline should be built, although 37 percent didn't know enough about the issue to have an opinion.
This post has been updated throughout.