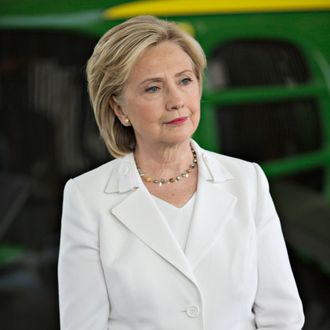 Hillary Clinton.
Photo: Daniel Acker/Bloomberg Finance LP/Getty Images
In an interview just before the holiday weekend, Hillary Clinton chatted with MSNBC's Andrea Mitchell about her decision to use a private email server at the State Department. "At the end of the day, I am sorry that this has been confusing to people and has raised a lot of questions, but there are answers to all these questions," she said. "And I take responsibility and it wasn't the best choice." 
Some might have interpreted this as an Emailgate apology, particularly because some supporters argue that she'll never move past the issue if she doesn't say she's sorry. But on Monday Clinton clarified that while she may be sorry that a scandal developed, she will not be apologizing for using a private server. She told the Associated Press that while it would have been a "better choice" to have separate accounts, she does not intend to directly apologize because, "What I did was allowed. It was allowed by the State Department. The State Department has confirmed that." "I did not send or receive any information marked classified," Clinton added. "I take the responsibilities of handling classified materials very seriously and did so."
However, the New York Times reports that a special intelligence review concluded that two emails Clinton received as secretary of state in 2009 and 2011 should have been marked "Top Secret." The finding by the CIA and National Geospatial-Intelligence Agency confirms the finding of the inspector general for the intelligence agencies.
Both the State Department and the Clinton campaign disputed the earlier finding. In response to the new review, the State Department said, "Classification is rarely a black and white question, and it is common for the State Department to engage internally and with our interagency partners to arrive at the appropriate decision." Clinton campaign spokesperson Nick Merrill said of the ongoing email releases, "Our hope remains that these releases continue without being hampered by bureaucratic infighting among the intelligence community, and that the releases continue to be as inclusive and transparent as possible."