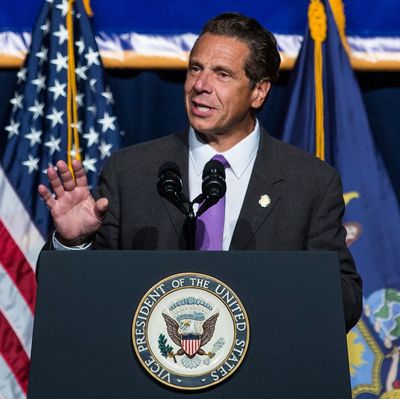 Governor Cuomo during his minimum-wage announcement.
Photo: Andrew Burton/Getty Images
Governor Andrew Cuomo's position on the minimum wage has come a long way in a short time. In February, he dismissed Mayor Bill de Blasio's call to raise the city's rate to $13 as a political "non-starter" with the state legislature. Today Cuomo led an emotional pep rally — complete with a rare invocation of Mario Cuomo's famous 1984 "tale of two cities" convention speech and a special guest, Vice-President Joe Biden — calling for New York's minimum wage to nearly double, to $15 an hour, across the entire state.
Cuomo and Biden certainly care about helping blue-collar working men and women. Yet this move also says a lot about their own job prospects, current and future — and about Hillary Clinton's surprisingly wobbly status as the Democrats' 2016 presidential front-runner.
Last spring, after Albany's long season of scandals, plus a battering from the state teachers union over evaluations and Common Core, the governor was on the defensive, his poll numbers falling. So in May he started repair work with the announcement that a state wage board would consider the idea of increasing the minimum pay of fast-food workers. The outcome was a foregone conclusion, given that Cuomo appoints the wage board's members, and sure enough, in July the board approved the $15 rate for chain-restaurant employees. That bolstered the governor's standing with downstate labor unions in particular, and mended some fences with disenchanted progressives: Even the Working Families Party, which for years has been at the forefront of the minimum-wage movement and is deeply skeptical of Cuomo's sincerity, had some nice things to say about the governor.
Cuomo had been expected to propose a comprehensive minimum-wage increase, but he typically saves his major policy initiatives for unveiling in January, teeing up his proposals for the spring legislative session in his State of the State speech. Biden, though, is in town for a Democratic fund-raiser and an appearance on The Late Show With Stephen Colbert, handing the governor an opportunity to piggyback the Biden presidential speculation.
For Biden, backing New York's $15 minimum wage positions him somewhat to the left of his maybe-possibly-could-be rival Hillary Clinton, a good spot to be in during a Democratic primary. Biden no doubt sees the size of the crowds being drawn by Bernie Sanders, who has introduced a U.S. Senate bill to boost the federal hourly minimum to $15.
Today's rally at the Javits Center, crammed with sign-waving union members, seemed like a preview of an alternate-universe future where Biden-Cuomo '16 was actually a plausible ticket. The minimum-wage campaign should at least give them greater relevance in the national Democratic conversation, if not a place on the ballot.