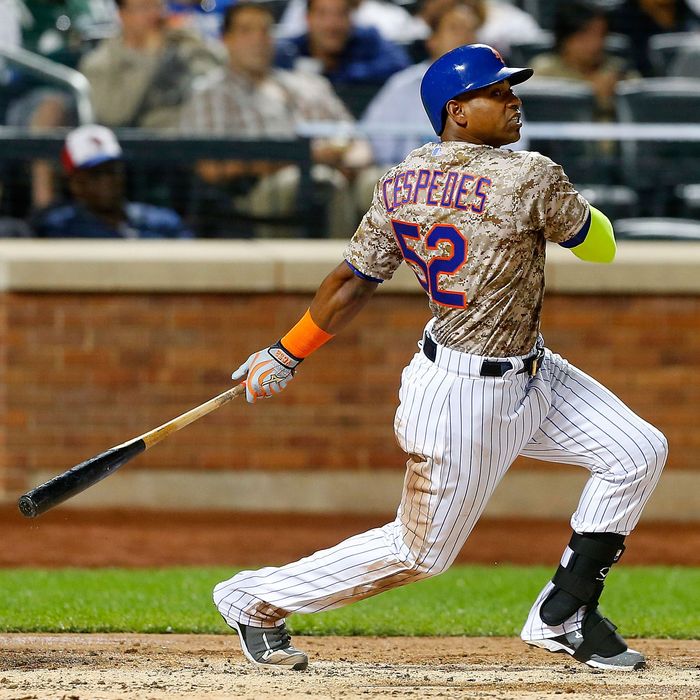 Yoenis Cespedes, last night.
Photo: Jim McIsaac/Getty Images
The Mets have a six-and-a-half-game lead in the National League East with 12 games remaining — a comfortable margin that all but assures them of winning the division for the first time since 2006. But some Mets fans won't relax until the team has officially clinched the East — not after what happened in 2007, when the club had a seven-game lead with 17 games left to play, only to go 5–12 down the stretch and see the Phillies win the division on the season's final day. Sunday night's loss, which had dropped their lead to six, was especially dispiriting: Matt Harvey was cruising against the Yankees but was pulled after just five innings to preserve his arm, at which point sloppy defense and an ineffective bullpen gave the game away. The good news for Mets fans is that they got back on the right track with a win over lowly Atlanta last night. (The second-place Nationals were postponed last night because of rain.) The better news is that a collapse by a team in the Mets' current position would be nearly unprecedented.
There has been no shortage of September collapses since Major League Baseball went to a three-division format in 1994, in addition to the Mets' debacle in 2007. A sampling, via ESPN:
• Texas was up five games on Oakland with nine to play in 2012 and lost the division by finishing 2–7.
• The Red Sox had an eight-game lead over the Rays with 21 games remaining in 2011, but missed out on the postseason by going 5–16 while Tampa Bay went 14–7.
• In 2009 the Tigers had a seven-game lead in the A.L. Central on September 7 and still clung to a three-game lead over Minnesota with four games to go, but they would lose a tiebreaker game and miss out on the postseason.
• The A's had a three-game lead with nine to go in 2004, but finished 3–6 while the Angels went 7–2 to catch them.
• The 1995 California Angels had a seven-and-a-half-game lead going into the final full month of the season, but lost nine straight in late August and early September, then lost nine in a row again from September 13 to 23. They'd wind up in a tiebreaker with Seattle, and lose.
Other teams had blown big leads before that era, of course, from the 1978 Red Sox (who were 9 games up in mid-August on Bucky Dent and the Yankees) to the 1962 Los Angeles Dodgers (who had a 4-game lead with 14 games to go) to the 1951 Brooklyn Dodgers (up by 6 games with 16 to go) to the 1934 New York Giants (who had a five-and-a-half-game lead entering September).
So here's the good news for Mets fans. Their biggest lead over Washington came on September 14, when they were nine and a half games up in the East with 18 games left to play. No team in big-league history has ever failed to finish first after having a lead of nine and a half games with 18 left to play.
Since then Washington has chopped three games off the Mets' lead, but even now a collapse would be nearly unprecedented. Only one team in Major League history has ever blown a lead of six and a half games with just 12 left: the 1964 Phillies, who were 90–60 on September 20 but completely fell apart despite leading the division since mid-July. They dropped their next ten games and, in an era before divisions within leagues, would finish a game behind the National League champion Cardinals.
To put that another way, teams with a lead of six and a half games with 12 games to go have finished first 99.4 percent of the time. And Baseball Prospectus, which simulates the remainder of the season thousands of times to produce its Playoff Odds Report, has the Mets winning the East in 99.1 percent of their simulations as of this morning.
In other words, this isn't 2007, Mets fans. They've got this.