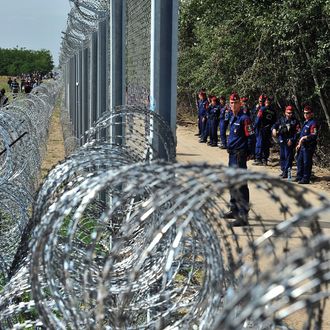 Migrants and refugees walk near a razor-wire fence secured by Hungarian police at the official border crossing between Serbia and Hungary.
Photo: Elvis Barukcic/AFP/Getty Images
Hungary officially closed its border with Serbia on Tuesday, testing its now-complete border fence — 13 feet high, 109 miles long — for the first time. 
It has, unsurprisingly, led to even more chaos. Crowds of refugees have gathered outside the fence, desperate to cross into the European Union. Police officers have arrested at least 60 people accused of trying to get over the razor-wire fence; officers are spaced out, standing guard along the fence every 35 feet. A few migrants held signs that read "Europe, Shame." Some have threatened a hunger strike along the fence, yelling, "No food, no water until Germany." Others have tried to damage the fence and make a run for it — before quickly being apprehended and arrested.
The country quickly declared a state of emergency, which means the military might soon join the police at the border. The only option that refugees have is traveling to a transit center and applying for asylum — a process that would take a long time and prevent them from traveling to the countries they actually wanted to get to, like Germany, which has announced temporary border controls because of the tens of thousands of refugees arriving at its borders in recent weeks. Austria, assuming that migrants will try to enter the country through Slovenia, is sending soldiers to the border. However, Austrian chancellor Werner Faymann chided Hungary for its border policy on Tuesday, saying, "You can't simply put your head in the sand."
If asylum applications are rejected in Hungary, migrants will be sent out of the European Union instead of sent further west to try again.
The Hungarian government continues to frame its response to the migrant crisis as protecting the state's Christian background. Prime minister Viktor Orbán tasked police officers headed for the border with defending "our culture, our way of life and our sovereignty … Hungary is a country with a 1,000-year-old Christian culture. We Hungarians don't want the global-sized movement of people to change Hungary."
Many countries along the European Union's border have blamed German chancellor Angela Merkel's expansive welcome to refugees for the influx of asylum seekers. The EU is currently struggling to figure out how to spread 120,000 refugees across several countries with quotas. "If we now have to start apologizing for showing a friendly face in an emergency situation, then that's not my country," she said in a press conference on Tuesday. However, many migrants arriving in Germany are confused by the new strict controls. One refugee told The Guardian, "We've travelled so far, thousands of kilometers, and now they're closing the borders. Is it open, is it closed? It's very unfair."
On Tuesday morning, off the coast of Turkey, another boat filled with refugees still determined to reach the EU, despite the increasing difficulties, sank. At least 22 are dead.