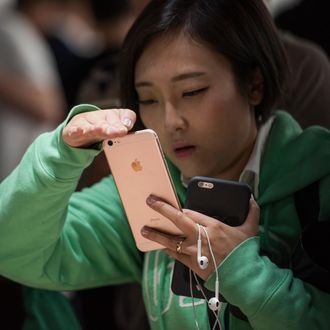 An attendee of the Apple product announcement views the the iPhone 6s Plus smartphone.
Photo: David Paul Morris/Bloomberg via Getty Images
The iPhone 6s and 6s Plus go on sale this Friday — if you're still on the fence about buying one or want to do some window-shopping, tech reviewers are starting to post their thoughts on the attention-grabbing gadgets online today.
The main gist? Apple's new smartphones are faster and full of fun features — but they're perhaps not exciting enough for an upgrade if you already have an iPhone 6.
Here's a roundup of what everyone thinks.
It's fast.
David Pogue at Yahoo writes, "If you operate an iPhone 6 side-by-side with an iPhone 6s, the difference hits you between the eyes. Opening apps, switching apps, processing things — it all happens faster on the 6s." Sam Grobart at Bloomberg says, "Moving between apps is lightning fast. Fast-moving games are as smooth as Billy Dee Williams on a silk surfboard."
3D Touch is amazing — but it also might have limited utility now.
Walt Mossberg at the Verge called the new multi-touch, pressure-sensitive screen the iPhone upgrade's "most important new feature." Others noted it takes a few days to figure out how hard to press the screen to get the features to work correctly.
Brian X. Chen at the New York Times disagreed:
It was fun experimenting with 3D Touch, but I rarely felt compelled to use it. With my camera, my instinct continues to be to open the camera app by swiping up on the shortcut on the iPhone's lock screen. When using email, I don't bother to peek; I just open them. Unlike past touch gestures on the iPhone, like pinching or swiping, I found 3D Touch, in its current state, to be limited and mostly unnecessary.
Grobart agreed that 3D Touch appears to have a limited utility at this point — although it is cool that Apple has invented it — and that it seems to work perfectly and could become even cooler with future models. Nilay Patel at the Verge adds, "It's kind of easy to forget about 3D Touch, because only a selection of Apple's apps support it right now. It's kind of like right click on OS X — the interface is designed to be used without it, but once you realize it's there, it's incredibly useful, and you want every app to make solid, consistent use of it. In that sense, 3D Touch won't really be that useful or revolutionary until third parties really grab onto it."
The new iPhone doesn't have better battery life.
Which is all Joanna Stern at The Wall Street Journal wanted:
In our grueling test; which loops a series of websites with brightness set at around 65%, I found the 6s and 6s Plus get no more—but also no less—battery life than their predecessors … There's no innovation at the power outlet, either. While other phones employ wireless charging and rapid charging technology for added convenience, the new iPhones still require you to plug in your phone and wait at least two hours (nearly three for the Plus) to charge to 100%.
Live Photos are fun, but maybe also useless.
Stern called Apple's version of GIFs — which capture the seconds before and after a still photo is taken — "the absolute best thing about the 6s." John Paczkowski at BuzzFeed said, "Some are briefly humorous, others are totally worthless; but when you get a good one, it's really something else. If I were a new parent, I would upgrade to the 6s for Live Photos alone. … My daughters say Live Photos are a lot like the moving pictures in Harry Potter, and they're not all that far off." Matthew Panzarino called them "a crystal-clear still image, with a sense of place attached." However, since they are basically videos, Live Photos can also take up lots of space. 
Siri is now waiting for you to call on her services at all times.
Right now you have to hold the home-screen button in order to ask Siri a question. With the iPhone 6s, you can now just say "Hey, Siri." It is unclear if anyone is so busy that saving that one second of time is actually useful. 
The camera isn't noticeably better unless you are a serious photographer — but you will take better selfies.
The iPhone 6's camera was already so good that many reviewers couldn't notice how the new advanced camera was any better — except for with selfies. The 6s offers a special, automatic "selfie flash" that illuminates your face before a smartphone self-portrait. Christina Bennington at Refinery29 writes, "In many cases with low or uneven lighting, this pseudo-flash does a great job of making what would normally be a dark, un-usable image share-worthy, brightening the photo without turning the on-screen faces ghostly pale. In moderate, 'maybe I need a flash?' scenarios, the results are (perhaps unsurprisingly) hit or miss. Sometimes, the flash helps the image; other times, the additional lighting ends up harsh."
Why is Apple still offering 16GB phones, again?
Another frequent criticism among tech reviewers was that iPhone base models still start at 16GB, even though the phones' increasingly sophisticated abilities take up a lot of memory. Some people used their review to quietly beg Apple to begin offering 32GB base models with the iPhone 7. 
If you own a really old iPhone, you might want to buy the new model.
Everyone else, Chen says, should wait until the next iPhone comes out — which will probably have even more exciting changes. Apple's smartphones usually only get small upgrades when they add an s; when the iPhones graduate to a new number, that's when the big changes occur. Pogue agrees: "The iPhone 6 was already a spectacularly great phone. If you'd have to pay an early-termination fee to get the iPhone 6s, it's probably not worth upgrading to the 6s."
You might also want to upgrade if you have a tendency to crack your phone screen. Several reviewers tried to break or bend the new iPhone, with little luck. New glass and new aluminum casing make the iPhone far less flimsy than its predecessors. The new case — and 3D Touch — do make the phone a tad heavier; Christina Warren at Mashable calls it "three marshmallows" heavier.