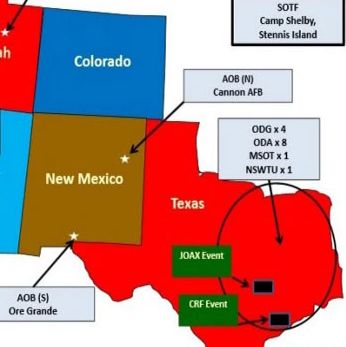 Despite fears that shuttered Walmarts would be turned into housing for invading Chinese soldiers and talk of an ISIS false-flag operation, aliens, Vladimir Putin, secret tunnels, depraved ice-cream trucks, FEMA camps, death camps, and martial law, the Jade Helm 15 military exercises are dead, and Texas is still alive. The exercises — which took place in states in the West and South, where the rural, dusty terrain is most similar to what soldiers would experience in the Middle East, and became a conspiracy-theory magnet because of a map labeling Texas as "hostile" for training purposes — officially ended on Tuesday.
Governor Greg Abbott, who received several pieces of tinfoil in the mail from constituents supposedly angry about his decision to have the Texas State Guard keep tabs on the operation, got daily updates on Jade Helm. A spokesperson told the Austin American-Statesman that these check-ins allowed him to "address any concerns and questions Texans had," although the exercises "operated on schedule and proceeded as planned."
The only criminal activity involving Jade Helm that appears to have happened took place in North Carolina, where three men were arrested for allegedly planning for martial law by booby-trapping their camp with explosives in case the federal government came. 
Counter Jade Helm, a volunteer organization of concerned residents that didn't endorse the Walmart or false-flag theories, posted dispatches about soldiers' whereabouts all summer. One report from early August, however, noted that "[v]olunteer turnout in Texas is lower than expected so it makes detection extremely difficult."
A few people worried about Jade Helm having sinister objectives were still heartened by the watchdog operation — even if no wrongdoing was recorded. Eric Johnston, Counter Jade Helm's Texas director, told the American-Statesman, "If a group of a couple hundred citizens could spot a special operations force, then they wouldn't be very good at doing their job because it was supposed to be covert infiltration. but it also showed that a number of American citizens, American patriots, are willing to give up their time to try to keep tabs on the military when it's on our soil."