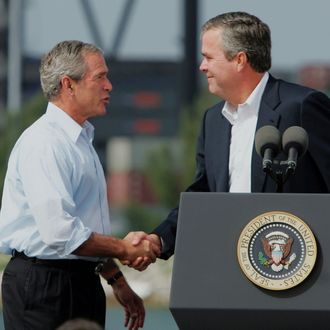 President George W. Bush and Governor Jeb Bush on July 31, 2006 in Miami, Florida.
Photo: Joe Raedle/Getty Images
Long before he announced his presidential run, many predicted that one of Jeb Bush's biggest challenges would be distinguishing himself from his brother and father. But in a maverick move, in the past few weeks Bush has suggested that there's almost no difference between him and George W. Bush (though he would try to control the spending of the Republican-controlled Congress). So far this strategy isn't working, but Bush is sticking with it. During last week's debate he said W. "kept us safe," drawing thunderous applause, then he tweeted the quote with a picture of his brother standing on the rubble of the World Trade Center, and said he'd be stronger on foreign policy "because, yes, I am a Bush."
On Sunday, Bush was at it again, calling out Hillary Clinton for an ad that she technically had nothing to do with and noting that his brother kept America safe (specifically, after that time when he completely failed to keep America safe).
The following ad, which notes that President Bush failed to protect America from "a crumbling economy," "a bureaucratic catastrophe," and "an unnecessary war," was paid for by Americans United for Change. That group was founded in 2005 and is not formally tied to Clinton, but it shares a president, Brad Woodhouse, with the pro-Clinton super-pac Correct the Record.
"It's as if Jeb Bush believes his brother's presidency began on September 12th, 2001. But we're not letting Jeb rewrite history," Woodhouse said of the commercial, which begins airing nationwide on Monday. "It's convenient but not honest to ignore the facts that the worst attack on American soil since Pearl Harbor happened on George W. Bush's watch after dismissing warnings from U.S. intelligence officials weeks before 9/11 that Osama bin Laden was 'determined to strike in US' and that his terrorist network might hijack American planes."
As the Washington Post noted, Clinton took a much less combative stance when asked about Bush's debate remark on Face the Nation, saying it's a "complicated question." "I do give President Bush credit for trying to bring the country together around the threats that we did face," said Clinton, who was a senator from New York on 9/11. "I have said the war in Iraq was a mistake. I supported what happened in Afghanistan. So, if you sort it all out, you know, it's a mixed — it's a mixed picture."
Clinton has yet to respond to the tweet, which shouldn't surprise Jeb since he's still waiting for her and Obama to take responsibility for all the problems in Iraq that his brother started.