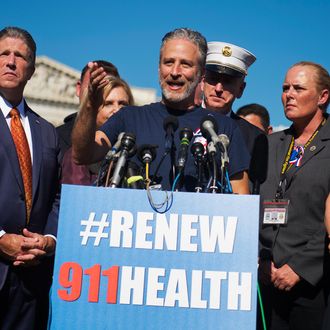 Jon Stewart attends a rally on the east front of the Capitol with members of the FDNY to urge Congress to extend health-care benefits for first responders who suffer from cancer and other ailments as a result of their work at ground zero after the 9/11 attacks.
Photo: Tom Williams/CQ-Roll Call, Inc.
Jon Stewart went down to Washington, D.C., today to try to shame Congress into extending the benefits for 9/11 first responders in the James Zadroga 9/11 Health and Compensation Act. He's very familiar with this role: It's the same thing he did five years ago, when Republican opposition to the bill almost prevented the bill from becoming a law in the first place. 
Back in 2010, Stewart used The Daily Show to highlight the illnesses of the NYPD officers and firefighters who had worked at ground zero. Now, with a few weeks to go until the medical benefits begin to expire — and a potential shutdown distracting Congress at the moment — he went right down to the Capitol, armed with dozens of first responders and lawmakers from the tri-state area, to try to pressure those hesitant to extend the benefits in person.
"I'm embarrassed," Stewart told first responders at a rally on the Capitol lawn Wednesday afternoon. "I'm embarrassed for our country. I'm embarrassed for New York, I'm embarrassed that you, after serving so selflessly with such heroism, have to come down here and convince people to do what's right for the illnesses and difficulties that you suffered because of your heroism and because of your selflessness."
The word embarrassing appeared several times during Stewart's remarks: "Hopefully we'll get some momentum and get things done and we won't have to drag first responders with stage four cancer down to Washington every five years to beg for medicine, because it's embarrassing."
"If they can't get this done," he added, "I don't have a tremendous amount of hope they can get anything done, this is about as unassailable a piece of legislation as you can possibly have. If you can't get this done, maybe we should shut down [the government]."
Before the first responders headed to the Capitol, Stewart warned them, according to The Guardian, that "On the hill you will be exposed to possibly toxic levels of bullshit and arrogance. You're strong men and women, but these are conditions you may never have faced before. Buckle your seatbelts. Let's get this done."
The extension currently has many Democratic and Republican co-sponsors in the Senate, but Congress has yet to vote on the bill. Stewart is scheduled to met with many senators — including Senate Majority Leader Mitch McConnell — today. According to National Journal, McConnell told reporters on Wednesday, "I'm go­ing to be meet­ing with first re­spon­ders later today my­self, and we do plan to ex­tend the pro­gram and the committees of jur­is­dic­tion in the House and the Sen­ate are ac­tu­ally work­ing on the de­tails now." Senator Chuck Schumer responded, "That is great news at last."