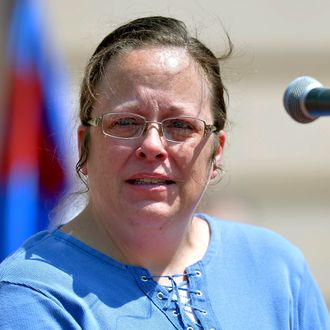 Rowan County clerk Kim Davis
Photo: Timothy D. Easley/© Corbis. All Rights Reserved.
Last night, the Supreme Court declined to intervene in a lower-court ruling that had ordered a county clerk in rural Kentucky to issue marriage licenses despite her religious objections to same-sex marriage. Today, that same woman, Rowan County clerk Kim Davis, remains defiant, citing "God's authority" over any other, according to the Associated Press. When her office opened this morning, Davis once again refused to issue marriage licenses to two same-sex couples, and when one couple who had been denied a license for the fifth time objected, she asked them to leave her office. Since the Supreme Court made marriage equality the law of the land, Davis, an elected clerk, has denied marriage licenses to all eligible couples, gay and straight alike, claiming that her Christian faith prevents her from supporting any authentication of the view that gay and lesbian couples can marry.