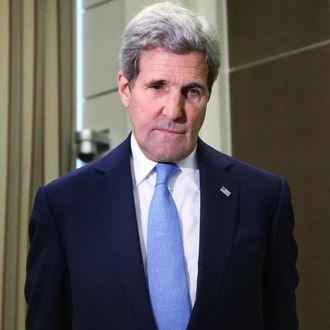 Photo: Sasha Mordovets/Getty Images
Secretary of State John Kerry plans to talk to Congress — specifically, the House and Senate Judiciary Committees — about the migrant crisis on Wednesday, explaining what the Obama administration is currently willing to do when it comes to accepting refugees from Syria. The U.S. has accepted about 1,500 Syrian refugees into the country so far. White House Press Secretary Josh Earnest said the State Department was considering a "range of approaches." "We're certainly mindful of the urgency around increasing the resources and response," he added.
The U.S. has provided relief in other ways, giving more than $4 billion in aid to refugees from Syria since the start of the civil war in 2011. 
Many organizations and groups have called on the U.S. to significantly increase the number of refugees being accepted. David Miliband, a former British foreign secretary now based at the International Rescue Committee in New York, told ABC News this weekend, "The United States has always been a leader in refugee resettlement but 1,500 people over four years is such a minuscule contribution to tackling the human side of this problem." Several senators have also called on the Obama administration to start welcoming more refugees. A few Republican representatives have said that would be a mistake; three representatives, including New York's Peter King, sent a letter to the White House saying, "Screening these refugees is not a task to be taken lightly. We cannot allow the refugee process to become a backdoor for jihadists."
It can often take years for refugees to make it through the bureaucratic hurdles necessary to get to the United States. In 2013, the U.S. approved the applications of 36 Syrian refugees, according to The Guardian, partly because of slowness caused by counterterrorism laws. 
Many 2016 candidates have also been asked about what the U.S. should do to respond to the crisis. Hillary Clinton, Martin O'Malley, and senators Marco Rubio and Lindsey Graham expressed willingness for the U.S. to resettle more refugees — or at least provide more aid of some kind. 
In Europe, plans to let in more refugees have been announced daily for the past week. On Wednesday, European Commission president Jean-Claude Juncker called on the European Union to accept 160,000 refugees. "Turning a blind eye to poor and helpless people, that is not Europe," he said, adding, "There is a lack of Europe in this union, and a lack of union in this union."
Several leaders and lawmakers instantly criticized the plan. Czech prime minister Bohuslav Sobotka said he was "convinced that Europe does not need new plans [for] how to solve the migration crisis," while Syed Kamall, the head of the British Conservative Party said, according to the New York Times, "Let's be clear: Telling countries what to do, forcing a plan on them, only risks more finger-pointing. It might make some of you feel better, but I fear it could actually make the crisis worse."
In a speech to Parliament on Wednesday, German chancellor Angela Merkel, who has been one of the European leaders most fervently calling for a more expansive refugee policy, also said that finger-pointing would solve nothing. However, she spun it as a call to action: "It won't help anyone to point fingers and exchange blame over who didn't do what, but we all need to go at this so that we can help the people arriving in our country."
EU lawmakers will begin discussing the new plan on September 14; it is not clear whether it will pass, since smaller quotas have failed in the past.