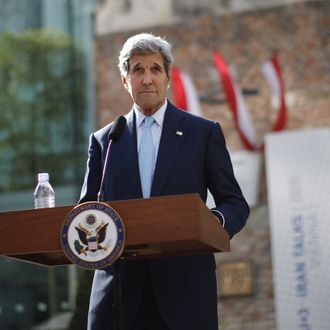 Photo: Carlos Barria/AFP/Getty Images
Update: The Obama administration announced Thursday afternoon that the United States will take in at least 10,000 Syrian refugees starting in the 2016 fiscal year, which starts October 1, 2015. 
As European leaders struggle with the flow of migrants across their borders, the United States is grappling with its obligations to help resettle and offer sanctuary to the thousands fleeing war and persecution in the Middle East — especially Syria — and Africa. Secretary of State John Kerry visited Capitol Hill Wednesday to discuss the crisis, saying that the United States plans to accept an additional 5,000 refugees, bringing the total to 75,000 in 2016. 
However, Kerry reportedly adjusted that figure in a closed-door meeting with lawmakers, saying he plans to return to Congress and request an increase of about 30,000 refugees, bringing the total number of applications accepted up to 100,000. Kerry did not announce this revised figure publicly, but he said the United States is "committed" to increasing the number of refugees brought to the country, though officials "are looking hard at the number that we can specifically manage with respect to the crisis in Syria and Europe."
Though members of both parties have expressed support for the idea of accepting more refugees, Congress remains divided on the best course of action to take — and any plan to welcome more refugees will require the approval and funding of lawmakers. Democrats welcomed Kerry's announcement, but some Republicans questioned the proposal, including Republican senator Chuck Grassley, who said the Obama administration needed to take "precautions to ensure that national security is a top priority, especially at a time when ruthless terrorist groups like ISIS are committed to finding ways to enter the United States and harm Americans." 
The United States has spent about $4 billion toward assistance for Syrian refugees, the most of any country, but has accepted only 1,500 Syrians since the war began (about 0.03 percent of the 4 million who've fled, most of whom are in the neighboring countries of Lebanon, Jordan, and Turkey). The U.S. is expected to take in 300 more before the end of September, which closes out the fiscal year 2015. The low numbers also reflect a lag in the screening process for refugees from Syria, which takes between 18 and 24 months. But even if the United States accepts up to 100,000 refugees, not all will come from Syria, making it only a small part of the solution to the overwhelming humanitarian crisis engulfing the Middle East and now Europe.