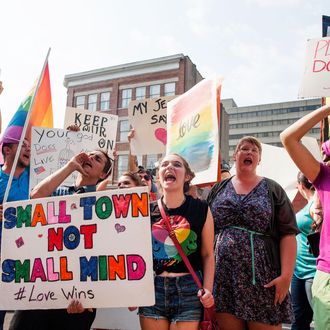 Photo: Ty Wright/Getty Images
Kim Davis, the Kentucky county clerk who received national attention for her refusal to issue marriage licenses following the Supreme Court's decision to legalize same-sex marriage, was taken into federal custody today. A federal judge found the elected official in contempt of court; she will be released from jail as soon as she agrees to comply with the court's order. 
Five of Davis's six deputy clerks agreed to issue marriage licenses — some reluctantly — starting Friday morning while Davis is in custody; her son, Nathan, was the only one to refuse to do so. U.S. District Judge David Bunning agreed to erase the contempt charge if Davis let the deputies begin to issue the licenses on Friday morning. The jailed clerk, however, refused the deal.
Licenses will be issued in Rowan County anyway, with those five deputies giving them out starting at 8 a.m. on Friday — although Bunning didn't definitively say if the licenses would be legal without the county clerk's signature. 
Davis was narrowly elected in November 2014 after working as a deputy clerk under her mother for 26 years; her mother, Jean Bailey, had been a clerk for 37 years. "My words can never express the appreciation," Davis said after winning last year, "but I promise to each and every one that I will be the very best working clerk that I can be and will be a good steward of their tax dollars and follow the statutes of this office to the letter."
Davis, an Apostolic Christian, has not issued a marriage license since June 26.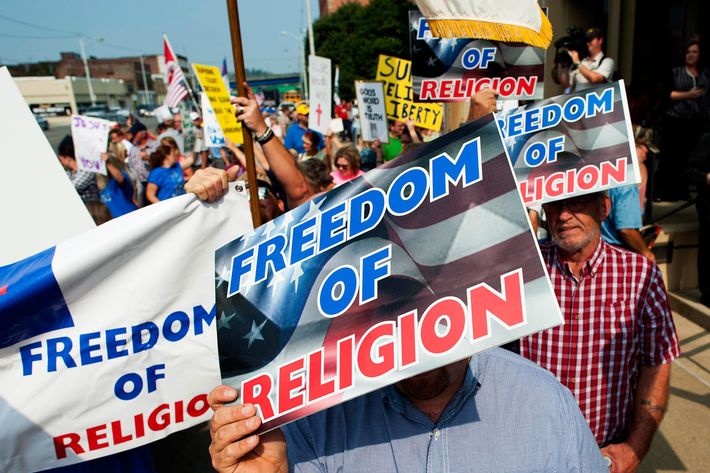 The American Civil Liberties Union lawyers representing the couples denied marriage licenses wanted Bunning to find Davis in contempt of court, but they said the punishment should be fines, not incarceration. Bunning reportedly said that fines would not be enough to compel her to follow the court's order, as the many conservative groups supporting her could pay them instead.
"The court cannot condone the willful disobedience of its lawfully issued order," Bunning said. "If you give people the opportunity to choose which orders they follow, that's what potentially causes problems." He added, "Her good-faith belief is simply not a viable defense. Oaths mean things."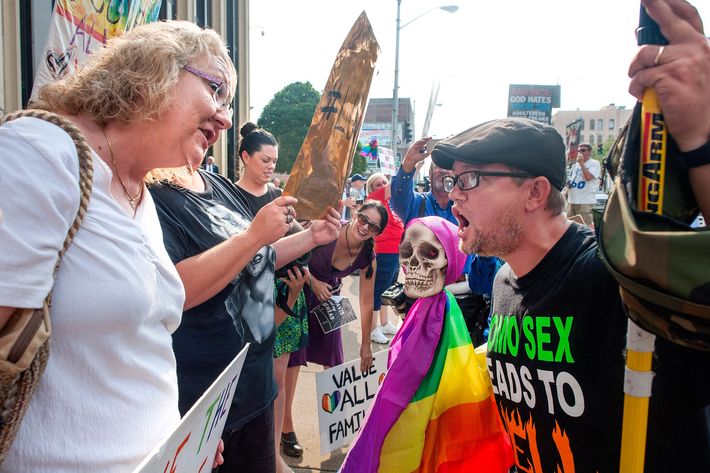 Bunning, who was appointed by George W. Bush, added, "I myself have genuinely held religious beliefs [but] I took an oath." The judge, who is the son of former baseball pitcher and senator Jim Bunning, has "been anything but a sure thing for conservative causes," according to the AP. He was on a panel of judges that overturned Michigan's partial-birth-abortion ban, and he ordered the Boyd County School District in Kentucky to allow the Gay-Straight Alliance — a club formed by students — to meet, also forcing teachers and students to hold training sessions on harassment. A student and a few parents later sued the school because the training "violated their right to free speech because it forbade them from telling others that homosexuality was wrong," according to the AP. 
On Monday, the Supreme Court turned down Davis's appeal of a decision Bunning made in early August — the clerk has lost her case at every level of federal court she's tried. Davis released a statement on Tuesday through her lawyers, who are affiliated with the Liberty Counsel, a conservative legal nonprofit that often gets involved in cases involving LGBT rights. "I never imagined a day like this would come, where I would be asked to violate a central teaching of Scripture and of Jesus himself regarding marriage. To issue a marriage license which conflicts with God's definition of marriage, with my name affixed to the certificate, would violate my conscience. It is not a light issue for me. It is a heaven or hell decision."
The Kentucky General Assembly is the only cog of the state's government authorized to remove Davis from her position. The legislative body, which is quite conservative anyway, won't be in session until January. Possible legislative fixes for this problem proposed by Kentucky politicians include taking clerks' names off licenses — or just letting a state agency give them out. Her term expires at the beginning of 2019.
All 300 seats in the courtroom were filled, and outside were gathered more than 100 protesters supporting Davis or the four couples who sought to get marriage licenses from her. A secretary from Ashland who carried a sign that read, "Kim Davis does not speak for my religious beliefs," cried as she told the Courier-Journal, "This is so ugly. I was unprepared for all the hate."
The Rowan County official is not the only county clerk who has refused to give out marriage licenses, although her legal case has made her the highest-profile one. There are two other clerks in Kentucky who refuse to give marriage licenses. One told The Guardian, "She's standing for God like she think she should and I think she should. I don't think a person should be threatened to be fined or threatened to go to jail because they're Christian."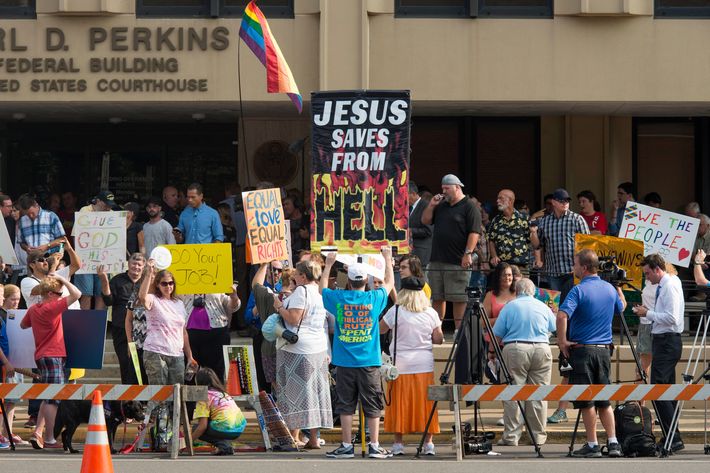 Overall, there are now far fewer clerks refusing to obey the Supreme Court's decision than there were after it was first announced. 
White House Press Secretary Josh Earnest told reporters, "Every public official is subject to the rule of law. No one is above the law. That applies to the president of the United States and it applies to the clerk of Rowan County, Kentucky, as well." He hadn't talked to Obama about today's developments yet.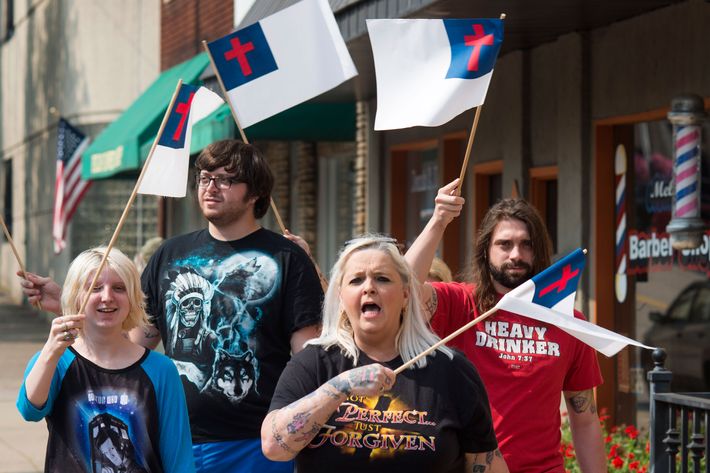 Many Republican candidates who did not agree with the Supreme Court's decision have been asked about Davis's case. Many support Davis, a registered Democrat, but acknowledge that law is law. "While the clerk's office has a governmental duty to carry out the law, there should be a way to protect the religious freedom and conscience rights of individuals working in the office," Florida senator Marco Rubio said. Others didn't bother being so careful trying to walk the tightrope between legal responsibility and religious conviction. "The rule of the law is the rule of law. That's what we are, a rule-of-law nation. I appreciate her conviction. I support traditional marriage," South Carolina senator Lindsey Graham said. "But she's accepted a job where she has to apply the law to everyone, and that's her choice."
Carly Fiorina had a similar opinion. "Given the role that she is playing, given the fact that the government is paying her salary, I think that is not appropriate … it's a very different situation for her than someone in a hospital who's asked to perform an abortion or someone at a florist who's asked to serve a gay wedding. I think when you're a government employee, you are put into a different position, honestly."
Mike Huckabee, on the other hand, is very much Team Kim Davis. 
Donald Trump was asked about Davis at a press conference today, but said he didn't know enough about what had happened to comment on it. 
Meanwhile, in Tennessee, another judge has issued an opinion on the Supreme Court's same-sex marriage decision — although it seemed a bit off-topic. A local judge refused to let a straight couple get divorced, saying that the Supreme Court needs to clarify "when a marriage is no longer a marriage."
"The conclusion reached by this Court," Hamilton County chancellor Jeffrey Atherton wrote, according to the Chattanooga Times Free Press, "is that Tennesseans have been deemed by the U.S. Supreme Court to be incompetent to define and address such keystone/central institutions such as marriage, and, thereby, at minimum, contested divorces."
Regina Lambert, who represented a Tennessee couple in the Supreme Court's same-sex marriage case, told the Times Free Press, "He is just making a statement. I just think change is hard for people."
This post has been updated throughout.