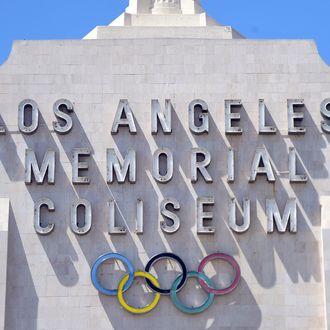 The Los Angeles Coliseum where the games took place in 1932 and 1984.
Photo: FREDERIC J. BROWN/AFP/Getty Images
The U.S. Olympic Committee's dream of hosting the 2024 Olympics looked like it might not even get off the ground when Boston backed out last month over concerns about potential costs to the city. But on Tuesday, Los Angeles, which successfully hosted in 1932 and 1984, threw its hat in the ring, with the city council voting unanimously in favor of the bid. Mayor Eric Garcetti said the games won't be a financial burden on the city, since much of the necessary infrastructure is already in place. "It is important to stress that we are not changing the face of our city to fit the Olympic Games," Garcetti said. "We have a vision of our city that the Olympics can benefit from, not vice versa." L.A. is running against Paris, Rome, Budapest, and Hamburg, and the International Olympic Committee will pick a host city in 2017.