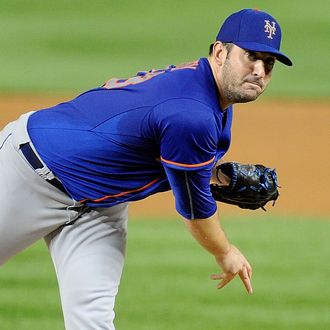 Matt Harvey.
Photo: Greg Fiume/Getty Images
The baseball world spent the holiday weekend debating exactly how many innings Mets ace Matt Harvey should pitch this season, but with all eyes on the righty during his start in Washington last night, Harvey was brutal, allowing seven earned runs (tying his season high) in 5⅓ innings — his shortest outing since July 4. The Mets at least rallied back from a 7-1 deficit to win and take a six-game lead in the National League East, but for Harvey, it was a night to forget.
The controversy began with comments by superagent Scott Boras, who told CBS Sports last week that Harvey, pitching in his first season since undergoing Tommy John surgery, shouldn't exceed 180 innings in order to protect his surgically repaired arm, even with the Mets in the midst of a pennant race. Harvey, who had thrown 166⅓ innings before last night, was initially noncommittal about going past that mark, though after some backlash, he published a piece on the Players Tribune website declaring that he'd pitch in the playoffs. Innings limits aren't an exact science, and the Mets' plan all along had reportedly been for Harvey to throw in the range of 190 to 195 innings. And so Boras, looking out for the millions his client could potentially earn down the line in free agency, clashed in the media with GM Sandy Alderson, who had a different interpretation of how Dr. James Andrews, the surgeon who performed Harvey's operation, believed they should proceed.
Earlier this week, Alderson outlined a compromise, albeit one he still had to discuss with Boras and Andrews. That plan would see Harvey pitch last night and once more before the final series of the season — possibly against the Yankees in one of three games from September 18–20. The team would like Harvey to be at 180 innings prior to the final weekend of the season, and could have him exceed that number in the postseason, though via the Times, Alderson was noncommittal about whether Harvey would be in the playoff rotation, and that it would depend in part on how Harvey felt. Harvey would also likely pitch in the final series of the season against Washington if the games are meaningful (which is to say, if a division champ hasn't yet been crowned). The Mets' magic number to clinch the East, if you're wondering, is down to 19.