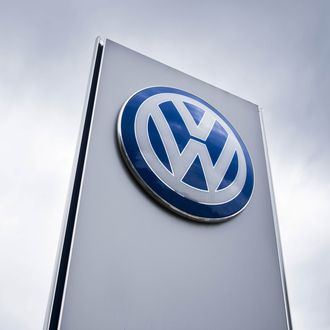 Photo: Odd Andersen/AFP/GEtty Images
Volkswagen announced on Friday that Matthias Müller, currently the top executive at Porsche, will become the German car company's new CEO. Martin Winterkorn resigned from the position earlier this week in the wake of the giant emissions scandal that has left the company in a precarious financial position. 
At least 11 million Volkswagen cars were equipped with software that helped "clean diesel" vehicles pass emissions tests while continuing to dump nitrogen oxide pollutants into the atmosphere. The company is prepared to spend $7.3 billion cleaning up the mess — and likely paying giant fines to the American regulators who noticed the cheating. 
Sixty-two-year-old Müller previously worked as Volkswagen's head product strategist before taking the reins at Porsche — owned by Volkswagen Group — in 2010. He also worked at Audi, also a Volkswagen subsidiary. On Wednesday, shortly after Winterkorn announced he was resigning, Volkswagen's executive committee released a statement noting that it was "aware that coming to terms with the crisis of trust will be a long term task that requires a high degree of consistency and thoroughness."
Müller said on Friday, according to the BBC, "My most urgent task is to win back trust for the Volkswagen Group — by leaving no stone unturned and with maximum transparency, as well as drawing the right conclusions from the current situation." Shortly before the scandal went public, the car company overtook Toyota — another company that faced recalls and controversy recently — in global sales. In the first few days after the news broke, Volkswagen shares plummeted by about 30 percent.