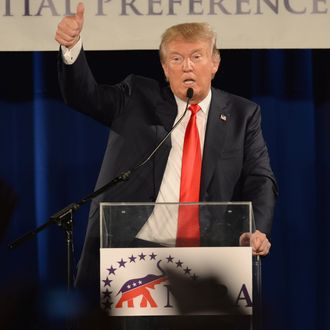 President Donald Trump will make full use of the Bully Pulpit.
Photo: Jason Davis/2015 Getty Images
Donald Trump is not the most demagogic, or the most bigoted, or the most ignorant major-party candidate, but he is definitely running the most dickish presidential campaign in American history. Trump has described Jeb Bush as "low energy," an insult that has gotten under Bush's skin, prompting Bush to declare, "I'll just give you a little taste of the 'low energy' candidate's life this week." There's nothing a bully loves more than evidence his taunt is working, so Trump has a new low-energy taunt today:
What makes Trump so extraordinarily dickish is that his taunts seem to have no purpose other than to annoy his rivals. Indeed, it raises the question of whether annoying Jeb Bush is the means by which Trump is running for president, or the ends. If it is the latter, as increasingly appears to be the case, then what would Trump do if he wins? A series of presidential fireside chats mocking Jeb? The formation of a new Works Project Administration artists project, which would hire unemployed writers and poets to produce creative new insults of Jeb on social media, or even in the form of murals and plays? Renaming the Department of Energy the Jeb Bush Department of Low Energy?