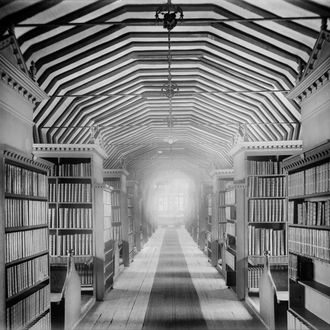 A photo illustration of all the books de Blasio has received.
Photo: Henry Taunt/English Heritage/Arcaid/Corbis
Mayor Bill de Blasio has received many gifts since being elected, according to a new list published by DNAinfo, and it seems that many people — including Governor Andrew Cuomo — are eager to send him books they wrote. Cuomo sent along a pair of cuff links and his autobiography, All Things Possible. 
A de Blasio spokesperson told DNAinfo that she was unsure if the Mayor wore the cuff links or read the book — if he did read it, he would be one of the few people on Earth to do so. Thanks to city rules, de Blasio is unable to keep any gifts worth more than $50; he doesn't keep all the gifts under $50 either. Even if he did keep all the gifts, it seems very likely that he hasn't had time to read all of the dozens of books he received — many of which seem very boring, or manage to convey their intended message through the title alone.
The books sent include two copies of If Mayors Ruled the World — one copy was a gift from a fellow mayor — Correctional Facility Design and Detailing, Dhammapada: The Sayings of the Buddha, Combating Unethical Practices in Government, Commerce, and Society, 66 Square Feet: A Delicious Life, One Woman, One Terrace, 92 Recipes, Letter to the One Percent, Stagefright Solved: The Official Stagefright Survival School Manual, A Ferret in a Garret, It's Tough to be a Red Sox Fan, and Sherlock Holmes and the Escape Artist. 
The mayor also received lots of wine, ties, and T-shirts, a wheel of cheese, four MetroCard holders, a sword sculpture made of recycled rubber, bagels, and at least one cassette tape.