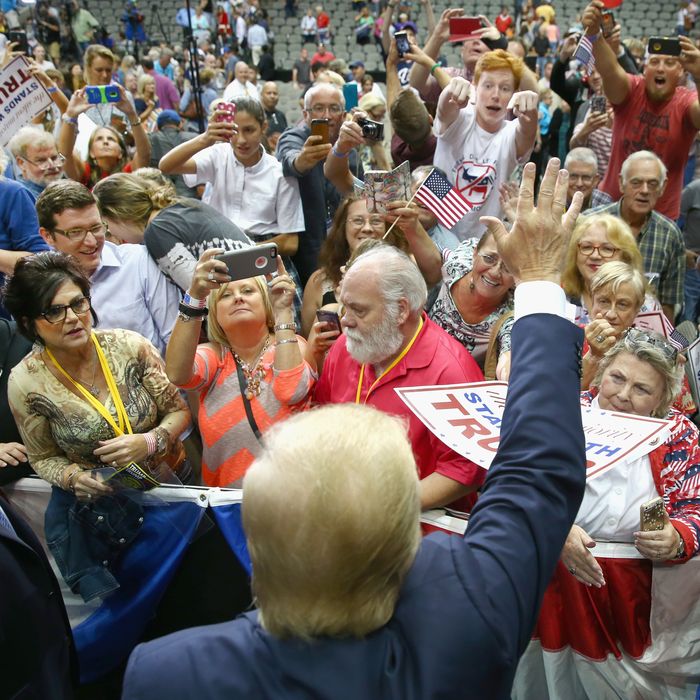 Donald Trump greets supporters during a campaign rally on September 14, 2015, in Dallas, Texas.
Photo: Tom Pennington/Getty Images
Since Donald Trump shot to the front of the GOP presidential race, journalists have been trying to answer one question: Who are the people who actually want to see him in the Oval Office? Many say they're drawn to Trump because he isn't a typical politician, and he routinely says things that aren't politically correct. Since Trump supporters now constitute more than a third of Republican voters, it's hard to generalize, but according to media reports, those backing the businessman also tend to be a bit eccentric. (Just don't call them "crazies.") Here are some of the more colorful folks we've encountered in various profiles of Trump supporters.
The "elegant fiftysomething" woman who believes The Apprentice was a window into Trump's soul.
As expected, during a Trump campaign stop in Oskaloosa, Iowa, last month, The New Yorker encountered a few people who ranted about the "invasion of illegals." However, they felt Stephanie DeVolder was more representative of the crowd. "I bought the videos of The Apprentice, and watched the whole thing," she said. "He is a phenomenal judge of character, and he actually does have a heart. He is absolutely amazing."
The white supremacist trying to give Trump a nonsensical honor.
Trump hasn't made any direct appeals to neo-Nazis, but as the only candidate who kicked off his campaign by insulting a minority group, he easily won the support of some prominent white supremacists. No terrible racist is more devoted to Trump than Craig Cobb, who's working to establish a whites-only community in Antler, North Dakota, which has a population of about 20. If town officials are unable to stop him, he hopes to name the town "Trump Creativity" or "Creativity Trump," in honor of his religion, Creativity Movement, and his favorite 2016 candidate.
The anarchist who hopes a Trump presidency will bring down the U.S.
The Atlantic asked people to write in to explain why they're voting Trump, and in the latest example of The Onion being all too real, one respondent said he believes Trump might destroy America — and he just wants to see what that would look like:
I know he would do a pretty terrible job at this point, but I really am at the point of letting the whole thing burn down and explode. Trump would help us get there faster and more efficiently. Like the joker from The Dark Knight, I just want to see the world burn. I guess I am an anarchist in that respect. Once it's all burnt down maybe we can have that constitutional convention we really need to fix things and get this country back on track if it still exists.
The confused English major.
Trump's strongest support is from Americans with lower education levels, but another Atlantic respondent demonstrated the dangers of settling on a presidential candidate while pulling an all-nighter to finish your essay on The Great Gatsby:
Perhaps Nick Carraway is representative of the disillusioned "Silent Majority" wishing to "Make America Great Again." Donald Trump personifies a modern-day, extremely brash Jay Gatsby, clawing feverishly for that elusive "green light" at the end of Daisy Buchanan's beckoning dock. Is it not better to place your chips on hopes and dreams rather than certain nightmares? Those of us who buy into Trump's vision, nearly to the point of blind trust, are loudly professing our disgust with the current immoral situations that taint and threaten our blueprint of the American dream …

So, I will happily bide my time dancing foolishly under Mr. Trump's brightly-striped tents and festive lights. Drawn to the man and his message like a moth to a flame.
The guy who dreams of murdering undocumented immigrants.
Many Trump backers are excited to have a candidate who's tough on immigration, though he's vague on how he's going to deport 11.3 million undocumented immigrants in under two years. But as the New York Times learned at a rally in Mobile, Alabama, some voters hope Trump will introduce an even more outlandish (and incredibly illegal) proposal. "Hopefully, he's going to sit there and say, 'When I become elected president, what we're going to do is we're going to make the border a vacation spot, it's going to cost you $25 for a permit, and then you get $50 for every confirmed kill,'" said 53-year-old Jim Sherota. "That'd be one nice thing."
The guys who are just in it for the beer.
Trump is already the candidate Americans would most like to grab a beer with, judging from SB Nation's trip to a college-football tailgate in Iowa last weekend. When Trump finally appeared he only spoke for about a minute, but his supporters were pumped (or maybe just plastered). A gentleman by the name of Cyclone who "reeked of booze" harassed a reveler for "not having a job" and then refused a reporter's request for an interview. "You're a Democrat. I can tell," he said, explaining that he could tell, "because you're wearing a plaid shirt." When the journalist said he was correct, Cyclone gave a Trump-esque "Yeah, go back to Univision!"
The more amiable Hawkeye, who was sporting a "Make America Great Again" hat, said he likes Trump because he's tough, not politically correct, and a good businessman. Then he admitted, "To be honest, man, we're just here to get fucked up."
The woman who'll believe anything embroidered on a piece of apparel.
Last month Republican pollster Frank Luntz sat down with a 29-person focus group of Trump supporters and uncovered the real reason for the candidate's meteoric rise. "We know his goal is to make America great again," one woman said. "It's on his hat. And we see it every time it's on TV. Everything that he's doing, there's no doubt why he's doing it: it's to make America great again."