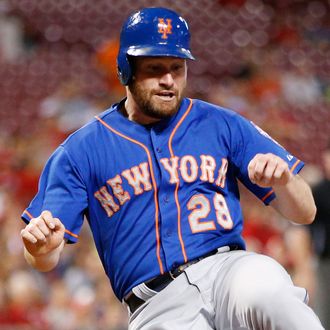 Daniel Murphy, last night.
Photo: Joe Robbins/Getty Images
This is happening, Mets fans: A seventh-inning rally propelled Terry Collins's club to a win over Cincinnati last night while the Nationals lost in Baltimore, inching the Mets closer still to their first National League East title since 2006. Their magic number — the number of combined Mets wins and Washington losses needed to mathematically eliminate the Nationals — is down to three, meaning the Mets could wrap this up as soon as tomorrow.
The Mets had won eight straight games from September 7 to 14, but they hit a slump during their most recent home stand, losing two of three games in each of three series, against the Marlins, Yankees, and Braves. But the games they did win, along with Baltimore's sweep of Washington this week, have kept their magic number dropping steadily. With a Mets win and a Nationals loss tonight, New York clinches at least a tie for the division.
If everything plays out just right, Matt Harvey could be on the mound for the clinching game — or at least, at the beginning of the clinching game. He's scheduled to pitch tomorrow against the Reds, but might throw just three or four innings as part of the current plan to preserve his arm. Harvey, of course, has already said he plans to pitch in the postseason. Now, he and his teammates are on the verge of actually getting there.