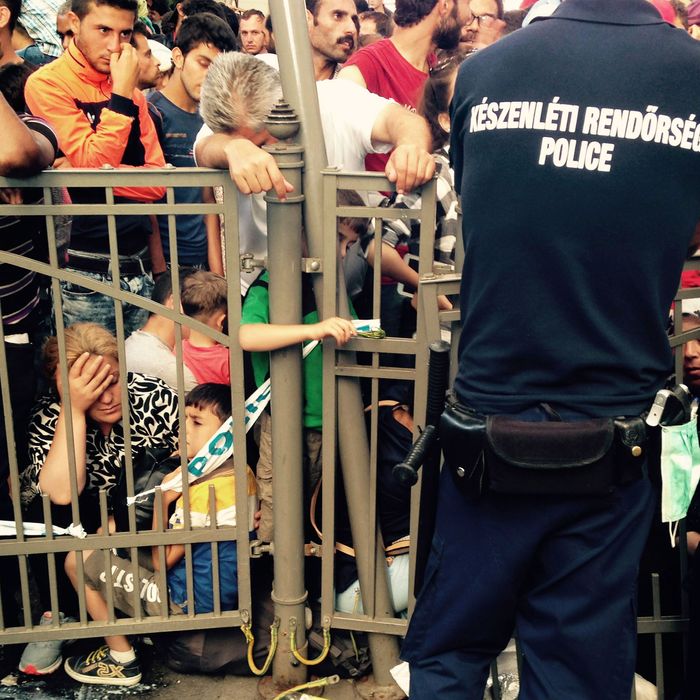 Migrants wait behind a fence guarded by police at the Keleti train terminal in Budapest, Hungary.
Photo: Pablo Gorondi/AP/Corbis
More than 2,000 migrants are protesting outside the main train terminal in Budapest, Hungary. The standoffs began Tuesday after the Hungarian government barred the migrants from boarding trains to other European cities, specifically Germany and Austria. Hungarian police in riot gear are amassed around the station, while the migrants, many of whom have paid for nonrefundable train tickets, wait outside the station, puncturing the air with shouts of "Freedom, freedom" and "Go! Go! Go! Germany!"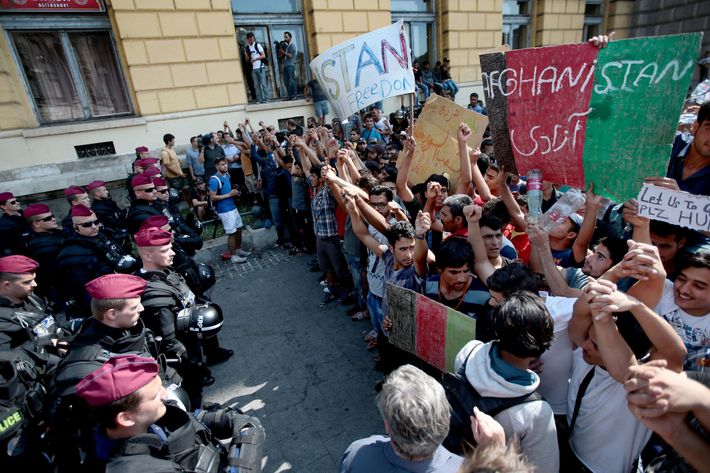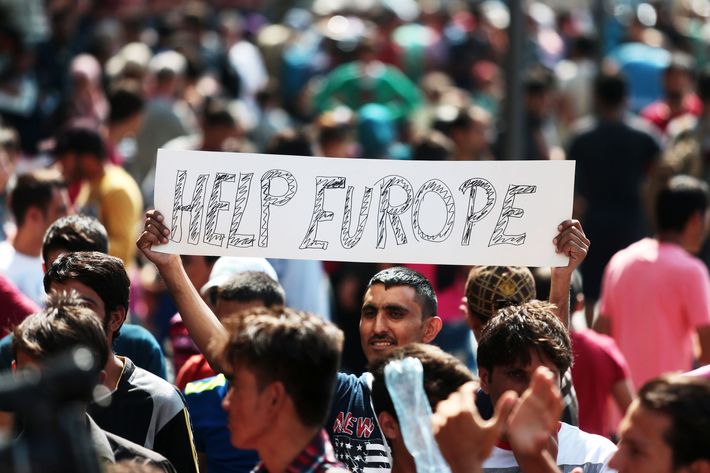 Hungary is another increasingly tense front in Europe's expanding migrant crisis. Those fleeing Syria, Iraq, and other conflict areas in the Middle East and Africa are streaming into Europe via a route that takes them through Turkey, across to Greece, through Macedonia and Serbia, and now Hungary, in an attempt to reach wealthier countries in western Europe. Hungarian officials say the train-travel restrictions are only for those without proper paperwork, including a passport and necessary visa. Some of those who aren't being allowed to take the train are trying to make the trip by taxi or by dealing with human traffickers.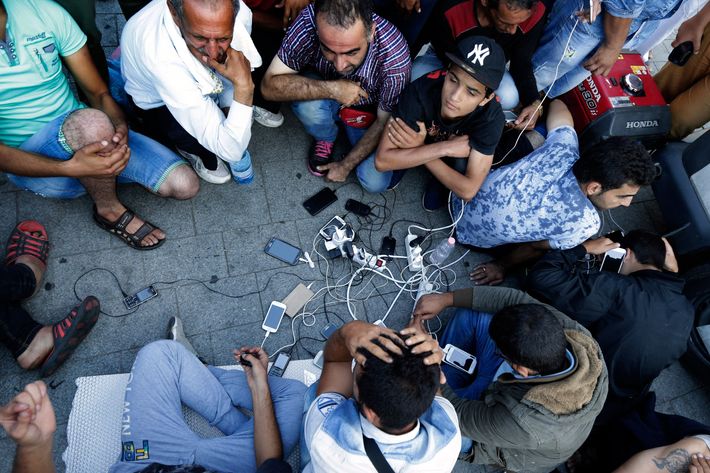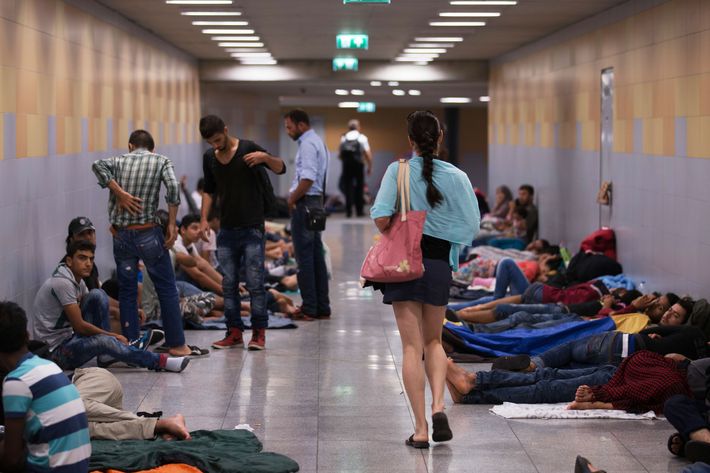 Two Syrian women waiting outside the Keleti train station told the BBC that they felt humiliated by the standoff, adding that many of the restaurants and hotels would not serve them. Police are reportedly checking documents in the streets and businesses around the train station. A 23-year-old refugee from Syria told the New York Times, "We are sleeping in trash. We don't know what to do. It's a matter of human rights. If they don't do something about the situation, we are going to start walking."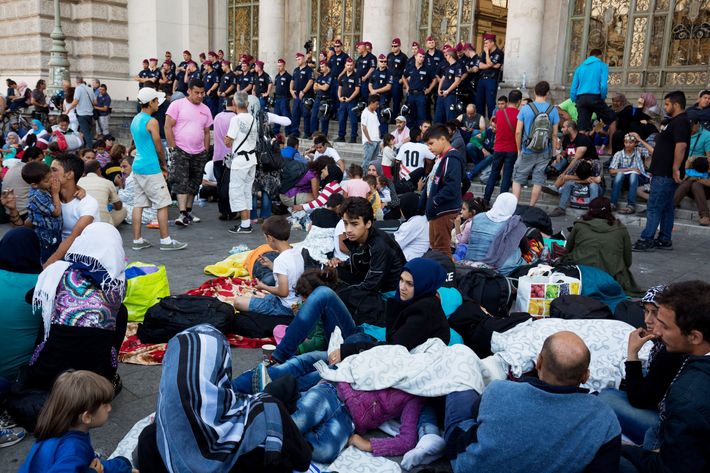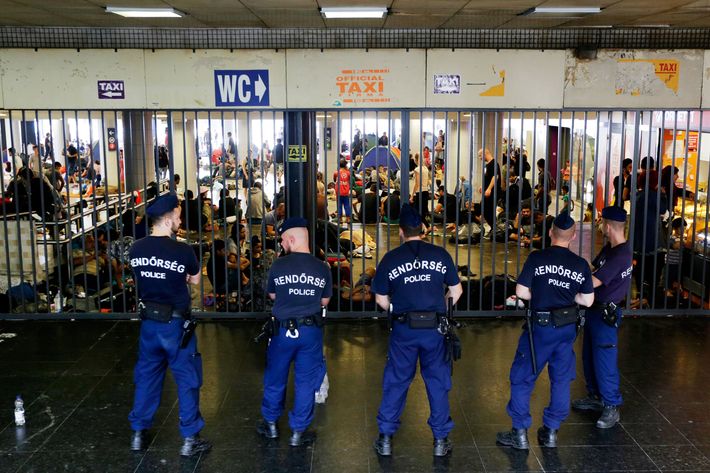 Fueling the crisis in Hungary, and elsewhere across Europe, is the pressure the influx of people has put on the European Union's system for sorting out who deserves asylum. The rules, known as the Dublin Regulations, apply to refugees and state that they must register in the country of entrance. (Basically, migrants tend to be seeking economic opportunity, while refugees are forced to leave home because of conflict.) But Greece, Italy, Hungary, and others are overwhelmed by the sheer number of people streaming across the borders, and the countries lack the resources to process them. Migrants themselves are also trying to dodge registration in the countries they enter — as those places, especially Greece, are less economically stable — to avoid being stuck there. EU countries have also complicated matters by issuing competing statements regarding the status of migrants. Germany — which is expecting more than 800,000 asylum-seekers this year — had said it would allow migrants from other states to apply for asylum in its cities, seemingly relaxing the rules, but then later issued another statement through the German embassy in Hungary that said it was abiding by the Dublin Regulation.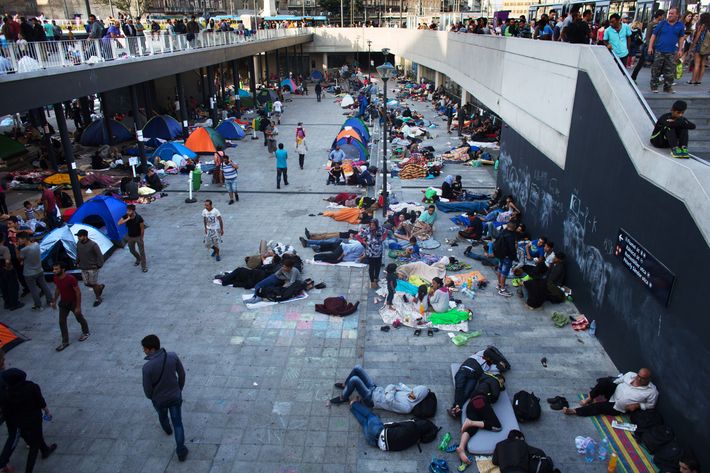 For now, Hungary has said it will send arrivals to camps as they await registration. But in a suburb of Budapest, at the Kőbánya-Kispest train station, more than 100 police officers responded after migrants on a train platform refused to go to Debrecen, a refugee camp set up for the migrants, seeking instead a one-way trip to Germany.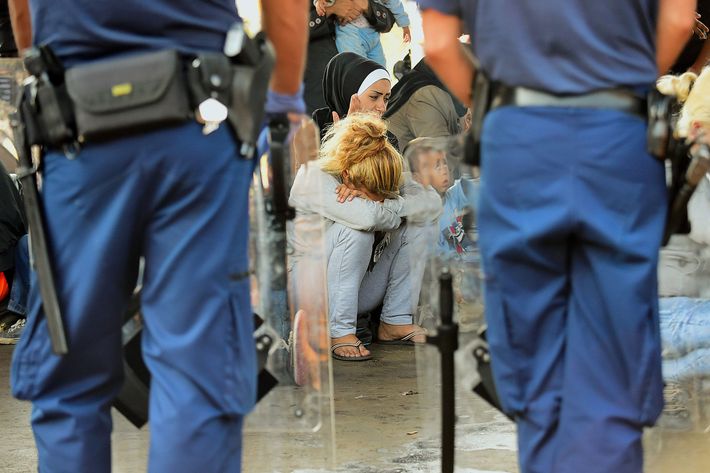 On Thursday, Hungary's prime minister, Viktor Orbán, will meet with other European Union leaders to discuss the escalating crisis. The Hungarian government is constructing a razor-wire fence on the Serbian-Hungarian border, which other EU states have criticized. It is also considering other measures, including using the army in some capacity at its borders and setting up new camps, reports Reuters. 
Hungary is just one of the flash points in Europe's confused and chaotic response to the migrant emergency. Overnight, in Calais, migrants climbed onto the tracks and trains of the Eurostar near the entrance to the Channel Tunnel, causing both London- and Paris-bound trains to turn back and delaying thousands of passengers. A ship also capsized Wednesday off the Greek island of Kos, leaving at least 12 dead. Some of the bodies washed ashore in Turkey, including an image of a little boy, lying facedown in the sand as the waves lap at his forehead.
Last week, 71 migrants were found dead in a truck in Austria. Overall, more than 2,600 migrants have died trying to reach Europe, many drowning off the coasts of Libya and Turkey.
With more than 107,500 migrants reaching Europe in July alone, the European Union will meet on September 14 to come up with an action plan. Though Germany has the capacity to absorb the most asylum-seekers, officials are demanding cooperation to resettle migrants more evenly across the member states, and they're criticizing other members, particularly Britain, for not sharing the burden.
This post has been updated throughout.