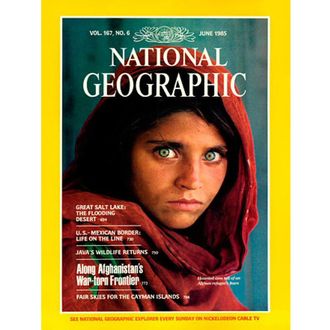 National Geographic, the nonprofit magazine famous for its yellow-framed cover and eye-opening photography, announced that it is going for-profit after 127 years. The change — an expanded version of an existing 18-year relationship involving properties like the National Geographic Channel —  is a partnership between Rupert Murdoch's 21st Century Fox and the National Geographic Society.
The new entity will be called National Geographic Partners: Murdoch's entertainment company will own a 73 percent stake in it after a $725 million deal that will increase the National Geographic Society's endowment to nearly $1 billion; the Society — which says on its website that it "has been inspiring people to care about the planet since 1888" and is "one of the largest nonprofit scientific and educational institutions in the world" — will own the remaining 27 percent, according to a report in Variety. The Society will remain a nonprofit.
Rupert Murdoch also owns The Wall Street Journal, the New York Post, and Fox News Channel. 
Gary Knell, president of the National Geographic Society and the first chairman of the National Geographic Partners board, said after the announcement that "the Society's work will be the engine that feeds our content creation efforts, enabling us to share that work with even larger audiences and achieve more impact. It's a virtuous cycle." Knell also told the Washington Post that he saw the new deal as an opportunity to give the magazine a "longer runway" after years of trying to figure out the problems of shrinking advertising and subscriber bases; he also said there were no plans to change the magazine as of yet.
The board governing all National Geographic properties — which together reach an estimated 700 million people per month — will be composed of an equal number of Society and Fox representatives. The profits from the partnership will be shared by Fox and the Society.
The deal will also transfer ownership of "National Geographic Studios; related digital and social media platforms; books; maps; children's media; and ancillary activities, including travel, location-based entertainment, archival sales, catalog, licensing and ecommerce businesses" to National Geographic Partners.