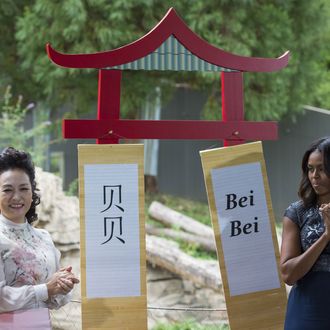 Not the First Lady's first name choice?
Photo: Molly Riley/AFP/Getty Images
Speaker of the House John Boehner shocked Washington by announcing that he's resigning his seat, but the healing began with news that the National Zoo's one-month-old panda cub finally has a name. First Lady Michelle Obama and China's First Lady, Madame Peng Liyuan, chose Bei Bei, which means precious treasure. It's pronounced "bay bay" or, if you must, "bae bae." 
Bei Bei, whose twin died shortly after being born to Mei Xiang on August 22, is doing "great," according to the National Zoo, and is chubbier than his older siblings were at this point. The Washington Post says he can't open his eyes yet, but can "scoot around using his front legs." His older sister, two-year-old Bao Bao, destroyed a fruit-and-ice panda cake before the ceremony in an apparent effort to remind everyone she was the cute one first.
And now, without further ado, more pictures of Bei Bei: