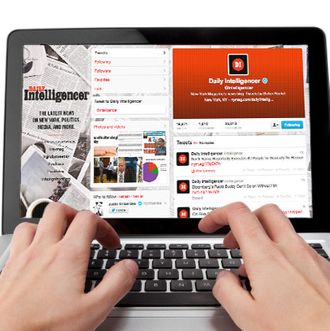 Welcome back to the New York Magazine Competition. On alternate Mondays, we lay out a challenge and offer sample responses. Enter in the comments section or on Twitter with the hashtag we've provided, and the editors will select a winner. Criteria are highly subjective, but heavily retweeted and favorited posts will have an advantage. The prize is a year's subscription to New York in print or a two-year subscription to the iPad edition (winner's choice). Full rules are here.
COMPETITION NO. 56: "MAKE A MOVIE POLITE." Please retitle a film for an easily offended audience.  For example:
DANG YANKEES

THE KISSING FIELDS

UNDER-THE-WEATHER POETS SOCIETY

THE TIFF OF THE ROSES
Enter on Twitter with the hashtag #makeamoviepolite, or in the comments thread below, by September 23.
RESULTS OF COMPETITION NO. 55, "BROOKLYN A BOOK," in which you were asked to retitle a novel for New York's literary borough of late.
HONORABLE MENTION TO:
Go Set a Smart Watch
—clippityclop
The Handmaid's Kale
—nycityofmind
The Handmade's Tale
—CourtneyPickles 
Naked Brunch
—@michi_rei
Everybody Stoops
—FlirtySanchez 
To Tattoo a Mockingbird on Your Neck
—JDuggity 
The Hitchhiker's Guide to Getting Into the School of Your Choice 
—@TheodoreArt
Gone With The F****g  Wind
—robstumpf 
Of Mice and the Morgan Stop
—sittingatmydesk 
A Tree Grows Right Frickin' Here
—@AARPRI_TheFeed  
Good in Bed-Stuy
—thelisareid 
Fifty Smells of Gowanus
—@latoyadjordan
Sheepshead Revisited
—RustyShackelford 
Three Men and An Artisanal Pickle Startup
—rgqueen 
Animal Farm-to-Table
—Lukenator 
Zen and the Art of Bicycle Maintenance
—RubyBaby 
The Importance Of Being Nathan's Famous
—rmtmiller 
A Room With A View Starts at $1,200
—kthxbye 
$19.84 For A Grilled Cheese Sandwich
—ESKBQ 
Willy Wonka and the Domino Sugar Factory
—sirbakesalot 
My Struggle to Find A Sublet
—3North 
Five Easy Pizzas
—Lexxman
Harry Potter and the Goblet of Microbrewed IPA
—DanielGalef
Murder on the Utica Avenue Express
—Periclescrystal
Tinder is the Night 
—cszek
Native Son Priced Out
—Hal10034
The Postman Always Rings Twice When Delivering Etsy Packages
—@muddymudskipper  
AND THE WINNER IS:
The Brothers Kościuszko
—@jeffkies