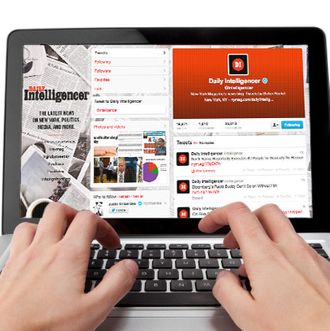 Welcome back to the New York Magazine Competition. On alternate Mondays, we lay out a challenge and offer sample responses. Enter in the comments section or on Twitter with the hashtag we've provided, and the editors will select a winner. Criteria are highly subjective, but heavily retweeted and favorited posts will have an advantage. The prize is a year's subscription to New York in print or a two-year subscription to the iPad edition (winner's choice). Full rules are here.
COMPETITION NO. 57: "COMIC CON SPEECHES." Please offer a line from a celebrity's imagined speech to the fans at New York Comic Con next week. For example:
Rudy Giuliani: "With great power comes great responsibility."

Taylor Swift: "And please welcome to the stage … my good friend Stan Lee!"

Jerry Seinfeld: "Well, it is good cape weather."

Hillary Clinton: "Yeah, actually, I burned all my back issues. Sorry."
Enter on Twitter with the hashtag #comiconspeeches, or in the comments thread below, by October 7.
RESULTS OF COMPETITION NO. 56, "MAKE A MOVIE POLITE," in which you were asked to re-title a novel for New York's literary borough of late.
HONORABLE MENTION TO:
Portnoy's Quibble
—‏@tremes15
V for Very Delicious Pies
—@candicehelfandr
Possibly Misunderstood in Translation
—ggreg
Get That Guy, Without Being Heightist About It
—jtanzer
I Drink Your Blood Orange Juice
—3North
Apology Now
—rgqueen
Escort Mother From the Train
—kg1958
Kiss, Kiss, Nudge, Nudge
—thelisareid
Debbie, Regrettably, Doesn't Do Dallas
—aronmio
Cuddlygula
—nilo
The Hugger Games
—BENLINUS99
There Will Be Boo-boos
—danaco
Batman ❤ Superman: A Stroll at Dawn
—FlirtySanchez
Conflict Resolution Club
—danaco
Not-conforming-to-society's-bathing-standards Harry
—‏@mery_rox
Ke7in       
—MiddleCoastDan
To Catch and Release a Mockingbird
—OldYeller62
Community on the Bounty
—queasyrider
The Ten Suggestions
—FlirtySanchez
Neutralize Bill
—danaco
There Will be Owies
—@SACunniff
Full Cashmere Jacket
—Duke84
Fear and Loathing in Salt Lake City
—AlienIncognito
Below Average Intelligence and Farther Below Average Intelligence
—SirEatALot
The Empire Hugs Back
—Classicist
Star Wars Episode III: The Sith Express Their Various Concerns
—robstumpf
AND THE WINNER IS:
Please Bring Me The Head Of Alfredo Garcia
—RustyShackelford