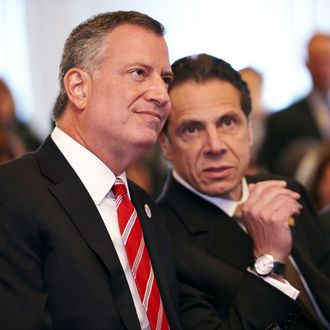 Photo: James Keivom/NY Daily News via Getty Images
While they may have initially found some entertainment value in the public squabbling of Andrew Cuomo and Bill de Blasio, it seems New Yorkers have grown tired of being caught in the middle of the governor and the mayor's crappy relationship. According to a Quinnipiac University poll released on Thursday, 57 percent of New York State voters (including 61 percent of New York City voters) believe Cuomo and de Blasio are "engaged in a political feud" that is preventing them from "effectively working together for the public good." Further: "Among voters who say there is a feud, 78 percent say it is harmful to the people of New York State."
Still, if people are going to be forced to watch a fight, then they've got to speculate about who's going to come out on top. And it's not looking great for de Blasio:
Voters statewide who say there is a feud say 61 - 9 percent, including 67 - 8 percent among New York City voters, that Cuomo is winning.

De Blasio did not work hard enough to convince state lawmakers to enact legislation important to New York City, 35 percent of voters statewide say, while 32 percent say Cuomo undermined de Blasio's efforts. New York City voters are divided as 39 percent blame de Blasio and 38 percent blame Cuomo.
In a statement to the New York Times, de Blasio spokesperson Amy Spitalnick doubled down on her boss's June remarks about Cuomo's taste for "revenge," as well as his tendency to "inhibit the agenda that New York city put forward" in Albany: "If there are ways to work productively with this governor, we will do so. If New York City is getting the short end of the stick from the state, we will continue to call that out." Cuomo declined to comment, though he did commit to a WNYC appearance to discuss the poll — before apparently canceling at the last minute.