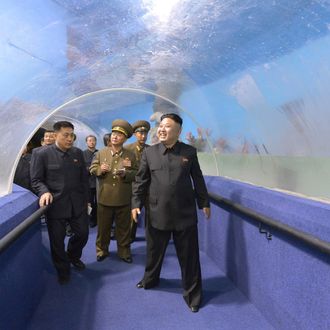 The Korean Central News Agency, the best resource for North Korean propaganda, sci-fi short stories, and long and winding insults about Western countries, reported Tuesday that the country is improving its nuclear arsenal in "quality and quantity" — and claimed that the state's main uranium-enrichment plant had been restarted. North Korea also said it might launch a satellite in the upcoming weeks — "satellite" could be a euphemism for "ballistic missile tests," something that is banned by U.N. Security Council resolutions. 
Oh, and if you didn't already get that Kim Jong-un is trying to intimidate Western countries, the KCNA report also includes a quote from the director of the North Korean Atomic Energy Institute: "If the U.S. and other hostile forces persistently seek their reckless hostile policy towards the DPRK and behave mischievously, the DPRK is fully ready to cope with them with nuclear weapons at any time." This is obviously not the first time North Korea has threatened the U.S. and its allies; the country might hope to insult its way toward reduced sanctions.
South Korea, which recently battled North Korea with K-Pop blared from loudspeakers, said it would consult with the U.N. if a missile test took place. The two countries are supposed to hold a reunion for families separated during the Korean War at the end of October — a plan that could be foiled if a missile launch takes place early next month.