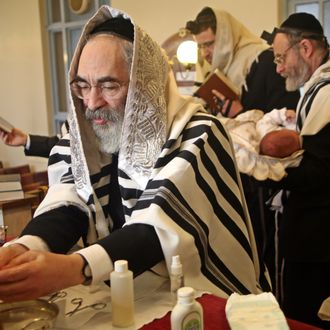 A mohel performas the metzitzah b'peh.
Photo: ? Andrew Aitchison
On the campaign trail Bill de Blasio pledged to undo the Bloomberg–era policy requiring ultra-Orthodox Jewish parents to sign a consent form before letting their baby undergo a ritual circumcision, and on Wednesday the New York City Board of Health made it so. The board voted to repeal the consent forms, which were rarely used, and instead, the city's health department will ask hospitals to give Orthodox families a pamphlet about the risks associated with the metzitzah b'peh. The ritual, in which a mohel uses his mouth to clean blood from a circumcised infant's wound, became a political issue after 11 babies contracted herpes and two died between 2000 and 2012. The number of infections increased after the consent forms were introduced, and Mayor de Blasio's administration is working with the community on a different approach. Under the new agreement, Orthodox leaders are expected to report mohels for testing if a baby becomes infected and ban him from performing the ritual if he tests positive, but they will not be legally required to do so.