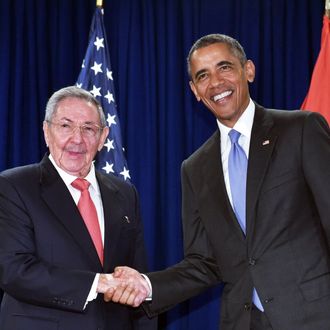 How to take a less-than-hostile world-leader photo.
Photo: Mandel Ngan/AFP/Getty Images
President Barack Obama and Cuban president Raúl Castro met Tuesday for the second time this year, smiling for the camera and shaking hands to remind everyone that times are a-changing when it comes to Cuba and the U.S.
Reuters shot video of the moment when photographers snapped photos of the two leaders, showing all the thought — and non-pertinent joking — that happens when important people know their relationship is going to be boiled down into a single frame.
Obama made sure to button his suit jacket so the photo looked appropriately formal, and Castro joked about how Obama is way taller than he is.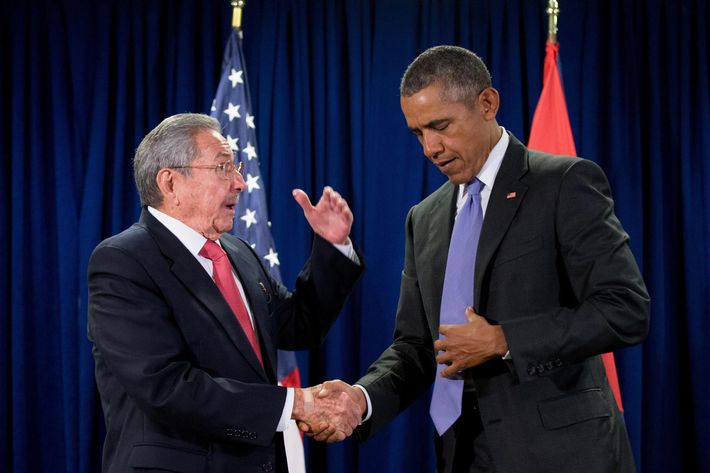 They gave the media a variety of options to choose from — do you prefer your leaders who are mending ties between two countries with a lot of fractious history to shake hands while sitting, standing, or making silly faces?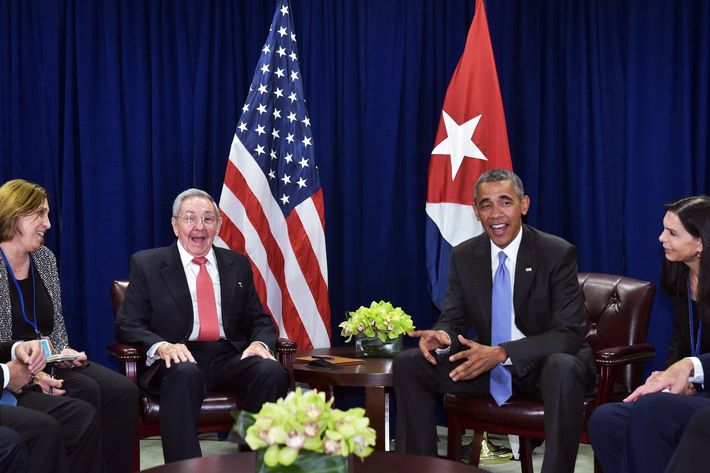 Obama and Vladimir Putin — president of the country that used to be Cuba's BFF — did not waste any time infusing their relationship with smiles or thawed tension during their allotted handshake time. Putin and Obama spoke privately for around 90 minutes on Monday; they mostly talked about Syria.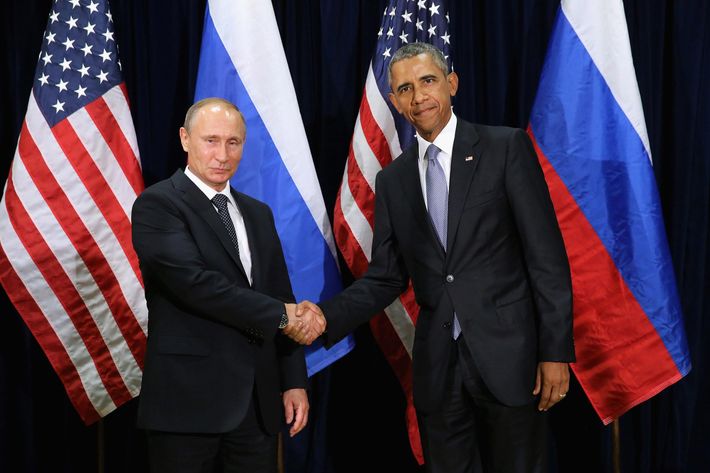 Castro and Obama met later on Tuesday to discuss the next steps in the improved relations between the two countries. Castro is most interested in getting the trade embargo lifted, something he mentioned in his U.N. remarks yesterday. He was the first Cuban president to address the international organization in more than a decade; his address was not as long as his brother Fidel's 1960 U.N. speech, which holds the record for longest continuous U.N. General Assembly speech. "Now, a long and complex process begins toward the normalization of relations," he said, "that will only be achieved with the end of the economic, commercial and financial blockade against Cuba; the return to our country of the territory illegally occupied by Guantanamo Naval Base; the cessation of radio and TV broadcasts, and of subversion and destabilization programs against the island; and when our people are compensated for the human and economic damages they still endure." 
Obama also gave a shout-out to Cuba in his U.N. remarks. He made sure to remind everyone that it's not up to him to end the embargo. "As these contacts yield progress," he said, "I'm confident that our Congress will inevitably lift an embargo that should not be in place anymore." However, the White House has also said that it has no plans to return Guantanamo to Cuba. Last January, Press Secretary Josh Earnest said, "The president does believe that the prison at Guantanamo Bay should be closed down. But the naval base is not something that we wish to be closed." And while Castro is impatient with how slowly policy changes happen in D.C., the U.S. is equally frustrated by how slowly Cuba is moving.
When Obama and Castro spoke on Tuesday, they made small talk about Pope Francis, who recently visited Cuba and the U.S.— and helped out during the negotiations between the two countries in the past two years — and discussed ways to make it easier for Americans to travel and do business with Cuba. Obama also mentioned his administration's support for human rights, a topic that many people who oppose the renewed diplomatic relations with Cuba bring up often. Cuba continues to detain many political dissidents, and the Red Cross has still never been allowed into Cuban prisons. Every single prominent Republican presidential candidate opposes the about-face in how the U.S. treats Cuba; the prominent Democratic candidates all supported the move.