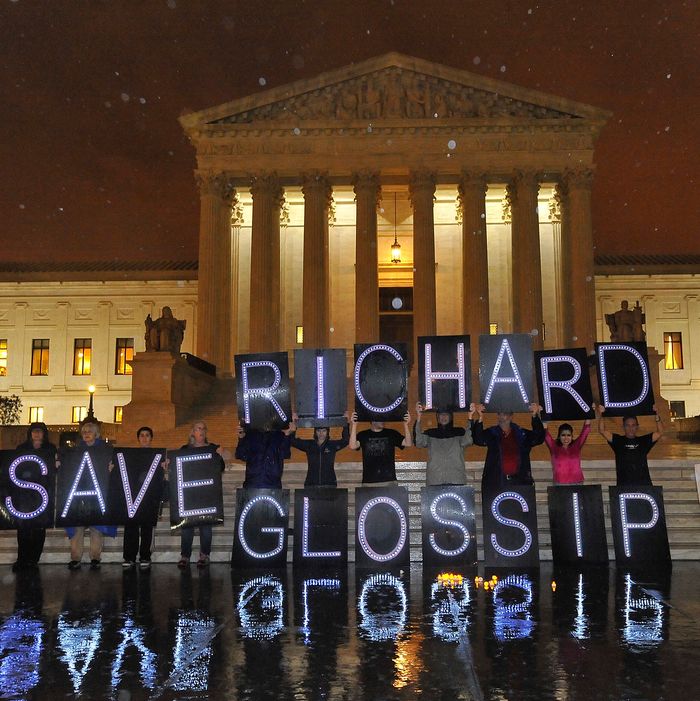 Anti-death penalty activists rally outside the U.S. Supreme Court in a final attempt to prevent the execution of Richard Glossip on September 29, 2015.
Photo: Larry French/Getty Images for MoveOn.org
Just after Pope Francis called for an end to the death penalty in his address to Congress, six death-row inmates are set to be put to death over the next two weeks. It's the biggest burst of executions in the U.S. in more than two years, and there are many legal and moral issues surrounding the cases. Early on Wednesday morning, Georgia executed Kelly Renee Gissendaner for conspiring to kill her husband, though he was stabbed to death by her lover and she went on to become a model prisoner. This afternoon Oklahoma is set to execute another inmate who wasn't even present when the murder in question was committed — and in this case, there are serious doubts about whether he had any involvement in the crime.
Richard Glossip has been convicted twice for the 1997 murder of Barry Van Treese, his boss at the Best Budget Inn in Oklahoma City. Fellow employee Justin Sneed admitted to killing Van Treese, but he claims Glossip pressured him into committing the murder because he was embezzling money from the business and on the verge of being fired. There is no physical evidence linking Glossip to the crime, and the bulk of the prosecution's case against him is based on the testimony of Sneed, who was given life without parole rather than a death sentence in exchange for his testimony.
Glossip was convicted and sentenced to death in 1998, but in 2001 the Oklahoma Court of Criminal Appeals overturned his conviction, saying he had ineffective representation and the evidence supporting Sneed's testimony was "extremely weak." Glossip was offered a plea deal before his retrial, but he rejected it, insisting that he was innocent. He was convicted and sentenced to death at his second trial in 2004. Once again, his attorneys failed to show video of Sneed's confession to jurors, though that was one of the reasons he won his appeal. The Intercept reports that they would have seen Detective Bob Bemo coach Sneed into implicating Glossip:
Had members of the jury watched the tape, they would have heard Bemo tell Sneed that before he decided whether or not to waive his rights and talk to the cops, he should consider the situation. "Before you make your mind up on anything," Bemo cautioned him, "I want you to hear some of the things that we've got to say to you." Sneed was read his rights, and then Bemo leaned in: "We know this involves more than just you, okay?" Sneed told Bemo that he didn't "really know what to say about" what happened to Van Treese. Well, Bemo said, "everybody is saying you're the one that did this and you did it by yourself and I don't believe that. You know Rich is under arrest, don't you?" No, Sneed said, he didn't know that. "So he's the one," Bemo replied. "He's putting it on you the worst."

If Sneed didn't want to talk about the involvement of anyone else, Bemo said he would be happy to walk Sneed into the jail and book him for Van Treese's murder, "and you would be facing this thing on your own," Bemo said. "And I don't think it's just you."
Sneed changed his story considerably over the years, adding more elaborate details about how Glossip badgered him into killing their boss, and instructed him to pick up a hacksaw and muriatic acid to dispose of the body. As Glossip continued to appeal his case — the 10th U.S. Circuit Court of Appeals upheld his conviction in 2013 — Sneed's story has continued to evolve. A year ago his adult daughter, O'Ryan Justine Sneed, wrote a letter to the Oklahoma Pardon and Parole Board saying she believes her father lied about Glossip's involvement in the murder to avoid the death penalty.
"For a couple of years now, my father has been talking to me about recanting his original testimony," she said. "I'm sure if he felt safe that he would not lose his plea agreement, he would give new and truthful testimony, much different from his testimony 17 years ago. He has asked me several times to look into what the legal ramifications would be to his own case if he recanted."
The parole board rejected Glossip's clemency request and he was scheduled to be executed on September 16. His attorneys claimed they had new evidence, but Oklahoma governor Mary Fallin refused to delay the execution, saying they waited until the last minute to turn over the new materials. "After reviewing it with my legal team, we have determined the vast majority of the limited content they have presented is not new; furthermore, we find none of the material to be credible evidence of Richard Glossip's innocence," she said.
Glossip's attorneys then released an affidavit in which Michael Scott, who was formerly incarcerated with Sneed, said he openly discussed lying about Glossip's involvement. "I specifically remember Justin on the top run with a couple of other inmates, fixing some food, and laughing with them about setting Richard Glossip up for a crime Richard didn't do," he said. "It was almost like Justin was bragging about what he had done to this other guy — Richard Glossip.  Justin was happy and proud of himself for selling Richard Glossip out."
Oklahoma County district attorney David Prater called the new information a "bullshit PR campaign," but just hours before Glossip was set to receive a lethal injection, the Oklahoma Court of Criminal Appeals said it wanted two weeks to review the evidence. On Monday, the appeals court ruled in a 3-2 vote that the new information "merely builds on" previous evidence presented by the defense. "After reviewing Glossip's successive application and motions, we find that the law favors the principle of finality of judgment," the court said.

On Tuesday night, Glossip made one final plea to the U.S. Supreme Court, asking the court to give him a stay of execution and review his case. The justices are already familiar with Glossip, as he was the lead plaintiff in the case that led the court to uphold Oklahoma's use of the lethal-injection drug midazolam last summer, despite claims that it is not an adequate sedative and played a role in several botched executions. 
Nearly 250,000 people have signed a MoveOn.org petition asking Governor Fallin to grant Glossip a 60-day stay of execution to make his case, and the group staged a protest outside the Supreme Court on Tuesday night. Republican senator Tom Coburn, Barry Scheck, co-founder of the Innocence Project, and death-penalty opponent Sister Helen Prejean have also called for a halt to the execution. Prejean said she hopes the Supreme Court takes up the case as, "It may be the perfect case before the court that shows just how broken the death penalty is, and perhaps it can save other lives."