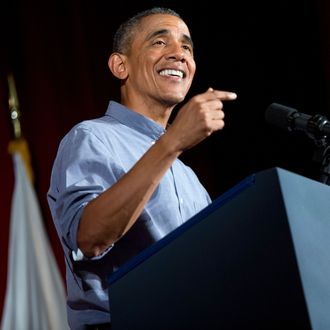 Photo: Andrew Harnik/AP/Corbis
The White House — and many Democratic presidential candidates — decided to celebrate Labor Day weekend by courting unions. President Obama spoke at a rally in Boston, announcing that he had signed an executive order giving paid sick leave to federal contractor employees on the plane ride over. 
He called on a recent news event very dear to Massachusetts's heart to make his point to the union- and Patriots-friendly audience. "You know if Brady needs a union, we definitely need unions," Obama said, giving an implicit shout-out to the Deflategate-fighting National Football League Players Association. "Even Brady's happy he's got a union. They had his back."
In Iowa, Hillary Clinton, Bernie Sanders, and Martin O'Malley all gave labor-focused speeches. Clinton received the first union endorsement of the 2016 cycle from the American Federation of Teachers in July. Clinton said she would make Republicans "pay a price at the polls for treating Americans like second-class citizens" at a town hall on Sunday. She singled out Scott Walker, who became a national figure after his fight against unions in Wisconsin, saying that "all the Republicans who are running for president are in the same mind-set" as the Wisconsin governor.
"I know standing here before you that one of my principal jobs as your president will be to defend the right to organize and bargain collectively on behalf of hard-working Americans," she added. Other unions have been waiting to endorse, wondering what might happen with Senator Bernie Sanders's labor-friendly campaign.
At a town hall with the same union — the American Federation of State, County and Municipal Employees — Sanders bragged that he had "maybe the strongest pro-union voting record over the last 25 years than any member of Congress." He also talked about his opposition to the Trans-Pacific Partnership, the trade deal that has left many unions unhappy with Obama. "You're not another special interest to me," he said. "I'm not going to leave here to go out to meet with the bankers or corporate America. You are my family. This is what I do."
At previous union-focused campaign events, Sanders has highlighted differences he has with Clinton — still far in the lead in the polls — on this issue. "I would say to the AFL-CIO, 'Take a hard look at my record. Take a hard look at Secretary Clinton's record,'" he told reporters in August. 
At the annual Labor Day picnic in Iowa City, O'Malley said, "Make no mistake about it, if we want our middle class to be stronger, if we want wages to go up and not down, we have to get organized and grow the labor movement in the United States of America." CBS News found a rare O'Malley supporter in Iowa — who was attending a Clinton event and wearing an "H" sticker. "I've got nothing against Hillary or Bernie," the union member said. "I like [O'Malley's] perspective. Realistically, will he get the nomination? Probably not."
In Pittsburgh, Vice-President Joe Biden marched with union members, many who seemed interested in watching another Biden presidential campaign. Biden didn't respond when a group briefly chanted, "Run, Joe, run!" He later told a CNN reporter who asked about his intentions to run, "I am gonna run part of the parade." When a steelworker shouted, "Biden for president!" the vice-president responded, "You have to talk to my wife about that; I've got to talk to my wife about that."
In New Hampshire, Scott Walker also talked about unions — although with a far different tenor. The candidate drove a rented Harley-Davidson — his Democratic opponents often mention that his beloved Wisconsin-based motorcycles were built with union labor — across all ten counties in New Hampshire. 
"Freedom — being on a bike," Walker said at one campaign event, according to New Hampshire Public Radio, "and thinking live free or die — that's the motto here in New Hampshire, but that's what I think about on a motorcycle, out on the free road on the road enjoying yourself." One voter in Jaffrey told NHPR, "I think it's cool! I'm gonna vote for him just because he rode a bike!"