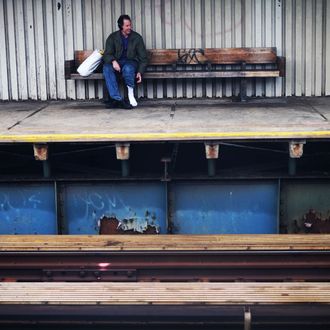 Is this going to last forever?
Photo: Jewel Samad/AFP/Getty Images
Did you worry that you would never get to see all 467 subway stations in pristine — or at least passable — condition? Well, here is some good news: According to the Citizens Budget Commission, you'll only have to wait 52 years until New York's subway stations are in a "state of good repair."
However, that timeline — merely half a century — can only happen if the Metropolitan Transportation Authority keeps fixing stations at the current rate. The report, released by the commission today, isn't terribly optimistic — the MTA's current budget plan for the next five years isn't completely funded yet — and goes so far as to render the MTA's plight into myth. The analysis begins, "In Greek mythology the gods condemned King Sisyphus to push a boulder up a hill repeatedly, only to have it roll down to the bottom as he approached the top." It goes on:

Seven out of the top ten stations deemed to be in the worst shape are in Queens. Here's a list of all of the stations that the commission says are in dire need of attention.
The Citizens Budget Commission argues that the MTA should focus on repairs and keeping things in good condition instead of building new infrastructure, like the Second Avenue subway, or simply reacting to new problems. The organization complained about this last year, too — and the MTA responded by saying that expansion was necessary. One solution offered by the commission was making "station conservancies" that could funnel private money into city transportation, as is the case with many New York parks.
People could pay money to put honorary plaques on subway benches, and puddles formed by leaks could be populated with cute ducks. Or maybe philanthropists could give millions to build statues commemorating important people in subway history, like the Manspreader, the guy who ate Brie during his commute, and the subway shark. Even if private money was funneled into subway upkeep, there are still probably many centuries to go before grumbles about the subway — because of station issues, slow construction, or because it is a day that ends in y — go completely silent.