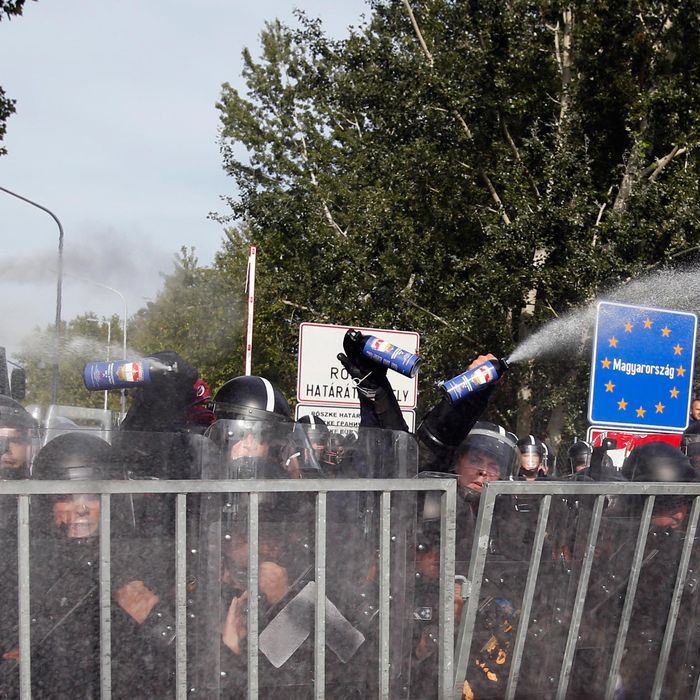 Hungarian police use pepper spray at the border crossing near the Serbian town of Horgos.
Photo: Darko Vojinovic/AP/Corbis
Hundreds of refugees and migrants at the Serbia-Hungary border faced down teargas and water cannons Wednesday, after Hungarian police tried to push back the rush of people attempting to break through sections of the border fence. Refugees and migrants shouted "Open!" "Open!" throwing objects at the gates and trying to kick in the metal rungs of the fence. Many wrapped shirts around their faces to protect from the spray of teargas.
Tensions escalated as refugees and migrants, most still desperate to reach Germany, were stranded in Serbia as Hungary intensified its crackdown at the border, which included a reinforced, 13-foot-high, 109-mile barbed-wire fence and police in riot gear standing guard. As of Wednesday, Hungary has also arrested more than 500 migrants for allegedly trying to illegally cross or damage the fence to slip through it. The Times reports that Hungarian authorities have already charged at least 46 individuals with crimes since Tuesday. The first of the accused are appearing in court Wednesday, including four Iraqi citizens apprehended for attempting to escape through a hole in the fence — though authorities acknowledge the Iraqis who are now facing charges did not actually carve out the opening.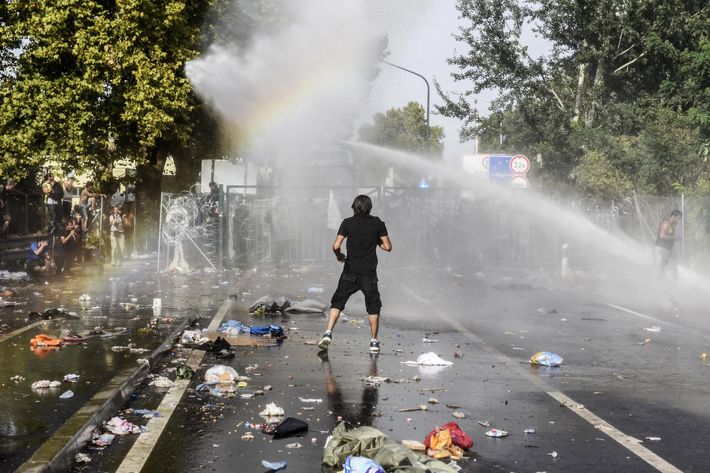 The standoff at the Serbia-Hungary border is now forcing migrants to detour to Croatia, a European Union member since 2013. More than 300 migrants have crossed from Serbia into Croatia as of Wednesday, where Croatian authorities say they are "ready to accept and direct" migrants, who will be registered and promised safe passage to destinations such as Germany and Scandinavia. Croatia's prime minister, Zoran Milanović, took a dig at EU neighbor Hungary, remarking that "barbed wire in Europe in the 21st century is not an answer, it's a threat." Officials also say they're preparing for a potential influx of thousands of migrants, and they're also dispatching de-mining experts to areas bordering Serbia to protect migrants from any landmines still intact from the '90s during the Croatian War of Independence following the breakup of Yugoslavia.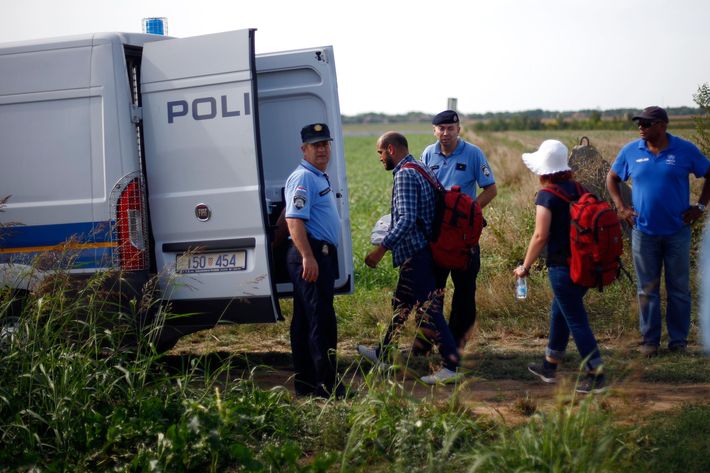 One man who fled Syria told The Guardian he was turned away at the Hungarian border; he is now headed toward a Serbian town near Croatia. "There are lots of people thinking of going through Croatia or Romanian. When you're coming from a war, you'll go by any route, any country."
However, Austria, which had introduced border checks on its border with Hungary, said it would consider heightening controls on its borders with Slovenia — the next country migrants in Croatia would likely pass through to head toward Germany — as well as Slovakia and Italy, if necessary.