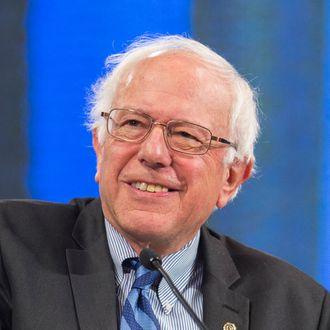 Bernie Sanders speaks during the New Hampshire Democratic Party State Convention on September 19, 2015 in Manchester, New Hampshire.
Photo: Scott Eisen/Getty Images
A new CNN/WMUR poll shows Vermont senator Bernie Sanders outperforming Hillary Clinton 46 percent to 30 percent among New Hampshire Democrats who plan to vote in the primary, and beating her in the key primary even if Vice-President Joe Biden declines to run.
The latter finding is significant, CNN explains, because most recent national polls measuring a contest without Biden find that his would-be supporters tend to flock to Clinton, pushing her ahead of Sanders. In this poll, however, when Biden's 14 percent share of voters was redistributed to their second choices, Sanders remained ahead of her 49 to 36 percent.
When asked which candidate they expected to win the state's primary, 42 percent of respondents chose Clinton and 42 percent chose Sanders, while only 6 percent said Biden. Clinton dominated their expectations for the national race, however, with 51 percent saying they expected her to win the nomination versus 19 percent for Sanders and 15 percent for Biden.
On the Republican side, the New Hampshire poll saw Donald Trump still holding the lead with 26 percent — the same number he got in the last CNN/WMUR poll in July — but the rest of the field has changed. Carly Fiorina now holds second place with 16 percent, followed by Marco Rubio with 9 percent and Ben Carson with 8 percent. Jeb Bush, who had been the runner-up in the July poll, is now trailing the pack with 7 percent. Additionally, 40 percent said they expect Trump to win New Hampshire and a plurality of 27 percent expect him to win the national race.