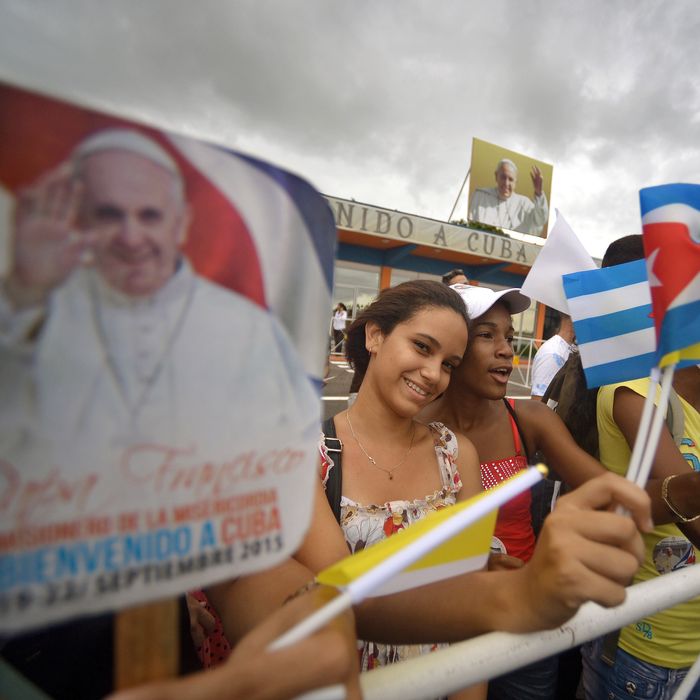 Cubans wait for the passage of Pope Francis in Havana.
Photo: Filippo Monteforte/AFP/Getty Images
Pope Francis's nine-day, two-country trip to North America is now under way with his arrival in Cuba, where he will spend the next few days before flying to the U.S. on Tuesday. Save a wind-triggered mishap in which Francis lost his papal cap while deplaning in Havana, so far the pontiff has been received with great enthusiasm. The Associated Press points out that it's the third visit to Cuba by a pope in the past 17 years, though Francis is the only of those three popes to be from Latin America. The pope also played a special role in the recent rapprochement between the U.S. and Cuba, and many in Cuba credit him as a hero for that long-awaited thaw. According to the New York Times, others are hoping the pontiff's visit will spur even faster reintegration between Cuba and the world. (President Obama and Cuban president Raúl Castro spoke on the phone prior to the pope's arrival.)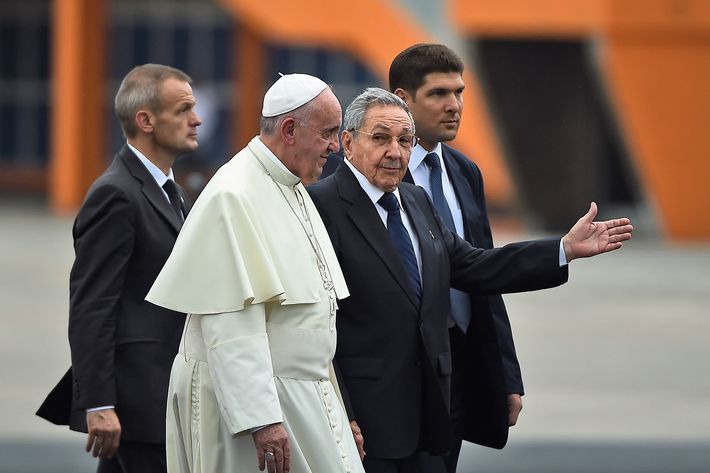 Critics, meanwhile, lament that Francis has not planned any meetings with political dissidents in the country, and there are some reports that political opponents of the Castro regime are being actively oppressed during the pope's visit. However, it is possible that while there won't be any public statements on behalf of dissidents and political prisoners, speaking with Mashable, a Vatican spokesperson seemed to hint that other outreach might be done privately. Said the spokesperson, "You can discuss problems of this type without dealing with them in clamorous ways." In addition, it remains possible that Francis will find other indirect ways to encourage more political and economic reforms in the country.
As for the Vatican, they are hoping the trip leads to greater religious freedom in a country where religion was once banned, following the revolution led by Fidel Castro, as well as permission from the Cuban government for the Church to expand and offer more services. The Times reports that even though as many as 60 percent of Cubans are Catholic, just 4 to 5 percent of them attend Mass with any regularity. The Church is hoping to reenergize the small nation's faithful, which Francis's Latin American background and diplomatic overtures may help facilitate.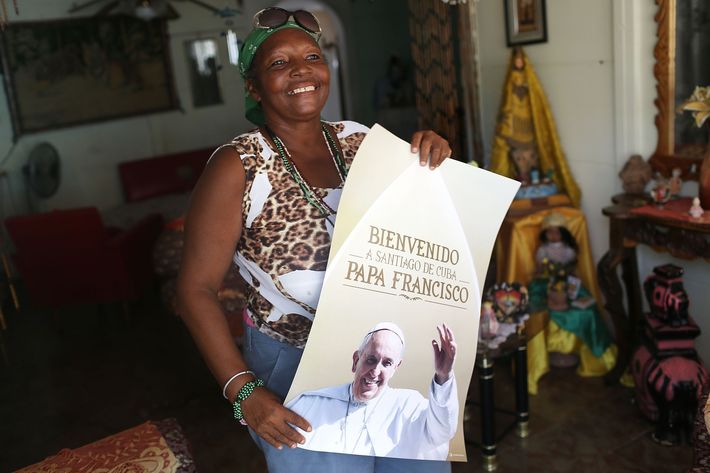 Following today's activitives, Pope Francis will hold an outdoor Mass in Havana's Plaza de la Revolución on Sunday, then visit the cities of Solguin and Santiago de Cuba on Monday.